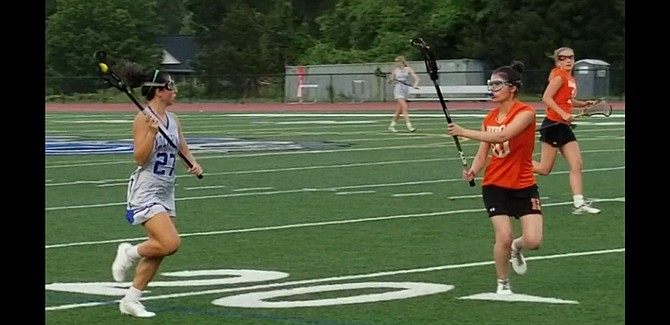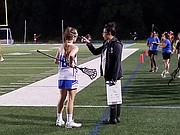 The signs of improvement are stacking up for the West Potomac girls' lacrosse program.
A Gunston District championship.
A 14-2-1 record.
And thanks to Tuesday's victory over Hayfield, a trip to the Occoquan Region semifinals.
The Wolverines find themselves one victory shy of qualifying for the state tournament after defeating Hayfield 19-8 in the second round of regionals at West Potomac High School. The Wolverines started to pull away midway through the first half, when a goal by Jackie Bewick with 12:53 remaining gave West Potomac a 6-4 advantage and set off a 5-0 run. The Wolverines led 12-6 at halftime and cruised to victory.
West Potomac will host three-time-defending state champion Robinson on Friday. The Rams are not the same dominant team as in recent seasons — Robinson is 9-9 and finished runner-up to Woodson in the Patriot District — but they did knock off the Wolverines during a regular season meeting on April 11, 15-12.
"If we are going to face Robinson," fifth-year West Potomac head coach Cindy Lopez-Yusuf said after Tuesday's win, "I think it's an incredible opportunity to really show that we work hard and we're able to produce wins against strong teams."
The Wolverines were without standout senior Madison Smith during their regular season meeting with Robinson. West Potomac senior Jackie Bewick is eager for a rematch.
"We want to play them," Bewick said. "We want to show them how we are."
West Potomac earned the opportunity to knock off the champs and secure a state berth with one of the best seasons in program history. After going undefeated against district foes during their first regular season in the new Gunston District, the Wolverines captured a rare district title with a 19-9 win over T.C. Williams on May 15.
Smith said she's pleased to be part of a team leaving a legacy for future West Potomac players to follow.
"That was incredible," the senior midfielder and team captain said about winning the district championship. "We've been working on this all four years. Last year, we were so close … so to finally get it, it's just really rewarding, especially being our last year here."
After earning a first-round bye in the region tournament, West Potomac beat district opponent Hayfield on Tuesday for the third time this season. Sophomore Bella DeMaso led the Wolverines with six goals. Smith finished with four goals, and Bewick and junior Clare Madden each had three.
"I think there's been a mental shift," Lopez-Yusuf said. "When I came in, the program was one that there were certain teams within our district that I think just counted us out. I think we're at a place now where no team can come up against us and count us out and I think that's a huge victory."
The Wolverines have produced a historic 2018 season. Just how far they can go remains to be seen.
"I'm very proud of our girls," Lopez-Yusuf said. "I'm very proud of how far we've come. We have an incredible work ethic and I'm really excited to see how far we can take this."