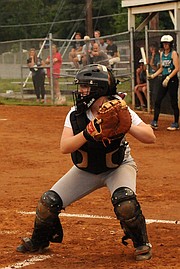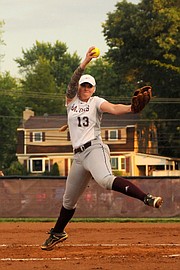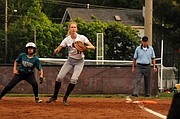 "Undoubtedly, we're going to lose some very talented seniors this year, but I'm aware of the pipeline [and] that we have some very talented eighth graders, currently, who will be coming to us. I think we're going to have a young team developing next year surrounding Susannah in the circle. I think we've got great potential to continue a very competitive program here."
— Mount Vernon softball coach Dan Coast
Stormy Zyzyk's senior season of sacrifice came to a close on May 28, ending a high school career that included being selected first-team all-district/conference four times, and receiving first-team all-state honors as a junior.
Zyzyk, a Towson signee, moved from center field to catcher for the 2015 season in order to help the Majors. She was emotional during a postgame interview, but her softball career will continue at the collegiate level.
Susannah Anderson's freshman season, which included first-team All-Conference 13 honors, also came to end. While she played a major role as a ninth-grader, her importance to the Majors will likely grow over the next three years.
The Mount Vernon softball team's 2015 season ended with a 5-0 loss to Massaponax on May 28 in the opening round of the 5A North region tournament at Mount Vernon High School. The Majors finished the season with a 16-6 record and reached the conference/district championship game for a second consecutive season and third time in the last five years.
The Majors will graduate four players who received all-conference honors in the last two seasons, leaving head coach Dan Coast with the challenge of filling some holes.
Despite the move to catcher, a position at which she had little experience, Zyzyk earned first-team all-conference honors as a utility player and was named conference Player of the Year. She hit .493, scored 34 runs and tallied 21 RBIs.
However, she went 0-for-3 against Massaponax.
"It started setting in last night, when I was like, wow, I'm possibly playing my last game in a Mount Vernon uniform," an emotional Zyzyk said. "I definitely wish I could have done better this game. I think I kind of psyched myself out."
Senior outfielder Perla Nichols, a transfer from Texas, earned first-team all-conference honors, as well. She went 1-for-3 against Massaponax. For the season, Nichols batted .386 with one home run and 23 RBIs.
Senior shortstop Amber Sable earned second-team all-conference honors. She went 1-for-3 against the Panthers and batted .278 for the season, with 27 runs and 15 RBIs.
Senior first baseman Maggie Heltzel earned first-team all-conference honors as a junior in 2013.
"Undoubtedly, we're going to lose some very talented seniors this year, but I'm aware of the pipeline [and] that we have some very talented eighth graders, currently, who will be coming to us," Coast said. "I think we're going to have a young team developing next year surrounding Susannah in the circle. I think we've got great potential to continue a very competitive program here."
Anderson figures to play an important role in the Majors' future. As a freshman, Anderson posted an ERA of 1.67. She struck out 149 batters and walked 47 in 130 innings.
"She's on to great things," Zyzyk said. "Obviously, she's a freshman, there's a lot of maturity she needs, as any freshman needs. She's going to do great. I'm looking forward to what she's going to do and what she's going to bring to Mount Vernon for the next three years."
At the plate, Anderson batted .528 with three home runs and 30 RBIs.
"It was a great experience just getting to play ball further than a lot of other teams," Anderson said after the regional loss to Massaponax. "I think it will help us in the future because I've got three more years to go further than the first round."
Anderson praised Zyzyk for making the move to catcher.
"It was really great," Anderson said. "We had a really good bond. She's not a catcher and she stepped up for the team to go behind the plate and help me out."
Also returning for Mount Vernon will be sophomore second baseman Katherine Hutchinson and freshman third baseman Love Ott, who each earned second-team all-conference honors.