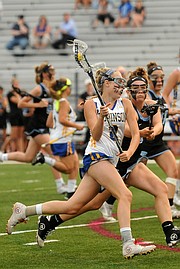 Robinson senior and future University of Maryland lacrosse player Izzy Obregon lined up in free position Tuesday night with the chance to put the Rams on the verge of a trip to the state championship game.
But with 15 seconds remaining and the score tied, Obregon's shot failed to find the back of the net and Robinson's 6A state semifinal contest against Centreville would go to overtime.
"Honestly, I wasn't that worried because I just had a sense that our team, we weren't going to lose," Obregon said. "We weren't going to take no for an answer. We weren't going to get this far into the tournament and then just go home."
While Obregon had faith in her team, her own ability would prove a sufficient reason for the Rams not to panic.
Obregon scored two goals and contributed an assist during the first of two three-minute overtime periods, and the Rams held on for a 15-13 victory over the Wildcats at Robinson Secondary School.
Obregon's pair of overtime goals came 30 seconds apart, each with an assist from sophomore attacker Katie Checkosky, and helped Robinson build a 15-11 lead entering the second three-minute overtime period.
Obregon finished with a team-high four goals.
"That's just Iz for you," junior midfielder Taylor Caskey said. "She is probably one of the [most mentally tough] players on our team. She's always the one picking everyone else up, so I think when she missed that shot it was our duty to talk to her ..."
Senior midfielder Mackenzie Schuler scored Robinson's other two overtime goals, including one with four seconds remaining before the break.
"That was amazing," is how Obregon described the Rams' performance during the first three minutes of overtime.
ROBINSON WILL FACE OAKTON in the 6A state championship game at 5 p.m. on Saturday, June 13 at Lake Braddock Secondary School.
One could say it was amazing Robinson even had a chance to win Tuesday night considering the Rams' inability to win draws for much of the evening. Centreville finished with an 18-8 draw control advantage, including 10-1 in the first half.
The Wildcats capitalized, taking a 10-7 lead when senior attacker Kara Waddell scored with 7:07 remaining in the second half. But the Rams started winning draws late in the second half and scored eight of the next nine goals including overtime.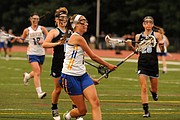 "I think our big momentum swing was when we started winning those draws," Caskey said. "... When you lose the draw it's hard to stay confident."
How did Robinson keep it close despite a considerable draw control disadvantage? Part of the answer was having junior defender Emily Skrzypczak take draws late in the second half.
"Definitely kudos to our defense for keeping [Centreville] off and playing good, solid defense," Robinson head coach Liz Case said. "We definitely had to change it up [with our draw-takers] ... and then finally we moved up Emily Skrzypczak, who truly is our ... safety net."
Down 10-7, Caskey started Robinson's comeback with back-to-back goals, pulling the Rams within one. Sophomore midfielder Elli Kluegel bounced in a free position goal to tie the score at 10 with 4:18 remaining.
Centreville senior midfielder Caroline Wakefield scored with 4:02 remaining, giving the Wildcats an 11-10 lead. Robinson junior Kaitlin Luccarelli's goal with 1:21 left in regulation tied the score at 11.
"This is huge for us," Caskey said. "I don't think I've ever been this excited in my lacrosse career. This was the biggest win for us, I think, because Centreville is definitely one of our biggest rivals of the year and we knew they were going to come out for blood and we just had to keep fighting through that."
Tuesday's win was Robinson's third of the season against Centreville. The Rams beat the Wildcats 25-20 during the regular season on May 11, and 19-13 in the Conference 5 championship game on May 22.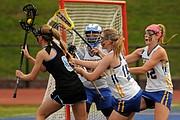 "It means the world," Skrzypczak, an Ohio State commit, said of Tuesday's win. "... The other games that we played Centreville, it's been for seeding, not really as important. ... This game, we knew going into it this was [an] elimination [game] and this is it. This could be our last game."
Schuler finished with three goals and two assists for Robinson, and Caskey totaled three goals and one assist. Checkosky had two goals and five assists, and Kluegel scored two goals. Junior goalkeeper Danielle Valenti finished with six saves.
Centreville senior Reagan Newell totaled five goals and one assist. Wakefield had four goals and two assists. Freshman attacker Emily Marciano scored two goals, sophomore attacker Elizabeth Murphy had one goal and three assists, and Waddell had one goal and two assists. Senior goalkeeper Alex DeLaRosa tallied seven saves.
ROBINSON IMPROVED its record to 20-1. The Rams' lone defeat was an 18-11 loss to Georgetown Visitation, a private school, on March 31.
Centreville finished the season with a 15-4 record.
Robinson will now face an Oakton team it has already beaten twice. The Rams defeated the Cougars 18-11 during the regular season on May 5, and 15-6 in the 6A North region championship game on June 2.
"We can't take it lightly at all," Checkosky said. "They're a really good team and we've seen them ... [go] into overtime, also, against Centreville [in the region semifinals]. We just need to play like we did in the first period of [tonight's] overtime."