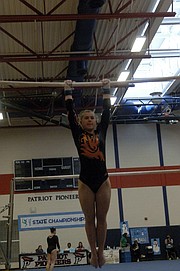 Hayfield junior Molly Overstreet medaled on bars and floor at the VHSL individual state gymnastics meet on Sunday, March 8 at Patriot High School.
Overstreet tied for second on bars with a score of 9.7 and tied for seventh on floor 9.325.
Overstreet won the state bars championship as a sophomore and set a state record with a score of 9.925. On Sunday, her routine looked promising, but Overstreet hit her heel on the low bar toward the end.
"My bar routine was going well, then as I swung down for my front giant my heel hit the low bar," Overstreet wrote in an email. "I was a little disappointed only because that has never happened before and I was hitting the routine in practices and in warmups. I was still happy about tying for second because my heel hitting the low bar was a deduction."
Overstreet produced a top-eight finish on floor despite back pain that left her noticeably uncomfortable.
"As I landed my one and a half," Overstreet wrote, "I jarred my back causing a lot of pain as soon as I landed."
Overstreet competed in the all-around, finishing ninth with a score of 36.85. She tied for 13th on beam (9.125) and tied for 39th on vault (8.7).
Overstreet won a share of the state vault title as a freshman. She suffered a concussion while trying a Yurchenko as a sophomore, and has vaulted with a lower level of difficulty since.
The individual state meet was originally scheduled for Feb. 21 but was postponed three times due to inclement weather concerns.