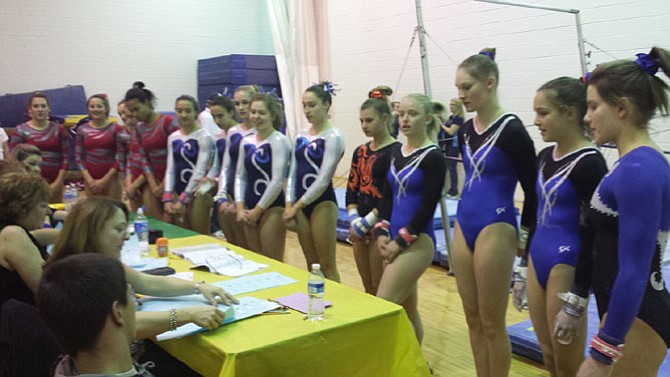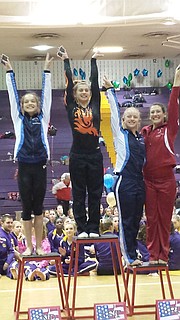 Hayfield's Molly Overstreet is no stranger to success in high school gymnastics, having captured state championships on vault and bars.
On Feb. 11, the junior earned a return trip to states by placing third in the all-around at the 6A North region meet, including a first-place finish on bars. She'll have the opportunity to add to her state championship collection on Feb. 21 at Patriot High School.
While Overstreet has a successful history at states, simply securing a berth in the 2015 competition required multiple displays of toughness.
Constant back pain caused by years of competitive gymnastics limited Overstreet throughout the regular season. Despite discomfort that, on a scale of 1-10, Overstreet described as a 6 when competing, she won the Conference 6 bars championship and qualified for regionals in the all-around.
OVERSTREET'S PHYSICAL TOUGHNESS had carried her one step closer to a shot at defending her state bars title. During the 6A North region championship meet on Feb. 11, Overstreet showed she's mentally tough, as well.
After an equipment malfunction in the main gym during the third rotation at Lake Braddock Secondary School, the uneven bars were moved into a snug gymnastics room. Overstreet and the rest of the competing Conference 6 gymnasts were on vault at the time and would compete on bars during the evening's final rotation.
"When I first found out the bars had broke, I was a little freaked out and concerned since I had already warmed up on them," Overstreet wrote in an email. "I knew I couldn't let it affect my bar routine, though."
When the final rotation arrived, Overstreet was fifth in the competition order. Seconds into her routine, after Overstreet shot from the upper bar to the lower, there was another equipment malfunction and the judges ordered Overstreet to stop her routine.
"Right after I did my shoot over, one of the bar tensions came loose, causing the bars to jolt," Overstreet wrote. "I heard one of the judges say 'stop,' so I got down."
How did she react to the stoppage?
"It was a little nerve-wracking to have to stop and start over, knowing the bars had just come loose," Overstreet wrote, "but, again, I knew I just had to do it."
With roughly 60 parents, coaches, gymnasts and others watching from a crowded viewing area, Overstreet bounced off the springboard, grabbed the upper bar and went through her routine.
The result: a score of 9.775, the top score in any event that night, and a region championship.
"It always makes me feel extremely happy," Overstreet wrote, "knowing all the hard work and pain has paid off."
Along with her first-place finish on bars, Overstreet placed fifth on beam (9.05), seventh on floor (9.475) and finished 31st on vault (8.675).
She finished third in the all-around with a total of 36.975. The top four qualify for states.
Washington-Lee's Sophie Hatcher won the all-around with a score of 37.65, followed by Yorktown's Bella Kane (37), Hayfield's Molly Overstreet (36.975) and McLean's Lizzy Brown-Kaiser (36.95).
SOUTH COUNTY sophomore Collea Burgess, last year's all-around champion, attended this year's region meet but did not compete. Burgess said her club coaches (Apollo Gymnastics) did not want her to compete.
McLean won the team title with a score of 144.425. Battlefield earned the other state berth with a score of 141.025.
Three-time defending region champion Washington-Lee placed third with a score of 139.525.
Overstreet won a share of the state vault title as a freshman, but suffered a concussion while attempting a Yurchenko as a sophomore (she bounced back from the concussion to earn the 2014 state bars title, setting a VHSL record with a score of 9.925). Since the injury, Overstreet vaults with a lower degree of difficulty during competition. She said she will not increase the difficulty of her vault at states.
Overstreet's toughness helped her get back to states. Now she wants to have some fun.
"My goals for states," she wrote, "are to do the best I can, have fun, and hit four for four on every event!"