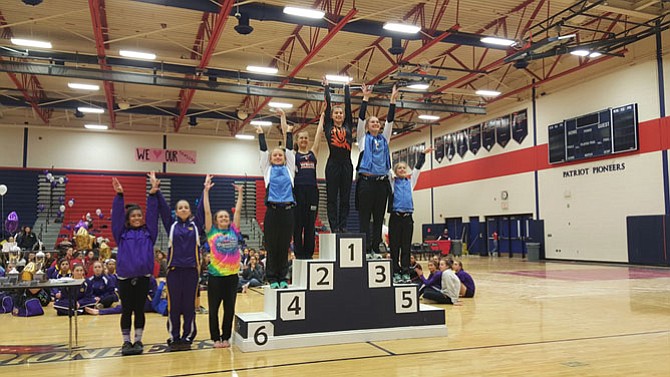 Molly Overstreet's decorated high school gymnastics career will conclude with a fourth trip to the state meet.
The Hayfield senior and two-time state champion qualified for states in two events during the 6A North region gymnastics meet on Feb. 13 at Patriot High School. Overstreet repeated as region bars champion and tied for third on floor.
The top eight finishers in each event qualify for states.
Overstreet received a score of 9.8 bars and 9.5 on floor.
"I feel like my routine on bars was good and I'm very happy to have finished first," Overstreet wrote in an email. "... I was very happy with my floor. It was the first time I competed my one­and­a­half twist this season, so I was a little nervous about it."
Overstreet tied for sixth in the all-around (36.55). She tied for 20th on beam (8.7) and tied for 29th on vault (8.55).
Overstreet's performance at regionals came eight days after she won the Conference 6 all-around championship with a score of 37.875 ­­­ her first conference all-around title.
As a sophomore, Overstreet won the state bars championship with a VHSL record score of 9.925. As a freshman, she won a share of the state vault title with a 9.8.
The individual state championship meet is scheduled for Saturday, Feb. 20 at Kellam High School in Virginia Beach.
"For states I'm just trying to clean up my bar routine, mostly just my form throughout," Overstreet wrote. "... My goals for states are to just hit my routines and make them clean."