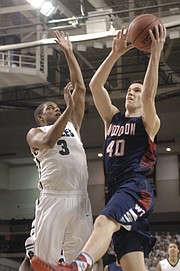 RICHMOND --- The Woodson boys' basketball team had multiple chances to tie or take the lead late in the fourth quarter of Friday's 6A state semifinal contest against Colonial Forge, but each time the Cavaliers came up empty.
After trailing by 14 points in the first half, Woodson pulled to within one with 2:30 left in the fourth quarter, but defending champion Colonial Forge scored six of the game's final seven points and secured a return trip to the state final with a 59-51 victory at VCU's Siegel Center.
Woodson lost in the state semifinals for the third consecutive season.
Jackson Boehman twice pulled Woodson within two, burying a 3-pointer and dropping in a putback early in the fourth quarter.
A Tyler Wilson bucket cut the Woodson deficit to 47-45. With 2:30 left in the fourth quarter, Eric Bowles converted a three-point play, bringing the Cavaliers within one at 51-50.
With 1:06 remaining, Woodson had possession, trailing 53-51.
Each time, Woodson failed to get over the hump.
"If you get open shots, you get free throws, you've got to put them down," Woodson head coach Doug Craig said. "… I thought we got open looks, we got to the free-throw line with the guys we wanted there. [A] couple rolled out on us, [a] couple [were] halfway down and popped out. That's basketball."
Woodson trailed 23-9 early in the second quarter and were out-rebounded 45-22 for the game, but found a way to get within striking distance in the fourth quarter.
"We're smaller than everybody we play against, it seems like," said Craig, whose Cavaliers were at a size disadvantage against the Eagles. "We're kind of a guard-oriented team. That's kind of who we've been the last couple years."
Woodson senior Tyler Wilson scored 19 points and made 6 of 8 field-goal attempts. In his final three seasons, he helped the Cavaliers win a pair of region championships and reach the state tournament three times.
"I'm proud," Wilson said, "to have been a part of all this."
Senior point guard Eric Bowles, the 6A North region Player of the Year, led Woodson with 20 points.
"I wouldn't trade my team for anything," Bowles said.
Marco Haskins led Colonial Forge with 20 points and 15 rebounds. Carion Eaton scored 19 points, including 17 in the second half.
Woodson finished the season with a 19-10 record.
Madison's Koshuta Scores 32 in OT Loss
Madison senior Kelly Koshuta scored 32 points, including a pair of free throws to tie the score in the closing seconds of regulation, but the Madison girls' basketball team's season ended with a 70-60 overtime loss to Cosby in the 6A state semifinals.
Cosby opened overtime with a 7-0 run and outscored Madison 20-10 in the extra period.
Battling against 6-foot-3 Cosby post Tyra Whitehead, Koshuta finished with 32 points on 13-of-29 shooting, and grabbed 11 rebounds. The Virginia Tech signee finishds her high school career as Madison's second-leading scorer and all-time leading rebounder.
"Playing at Madison my entire high school career has been great," Koshuta said. "This season was definitely something different. We made it further than we have ever, so that was awesome. I'm definitely going to miss it a lot."
Alexis Hermes scored 10 points for Madison. Morgan Simpson and Aidan McWeeney each had five for the Warhawks.
Madison started the season with three straight losses, including defeats against state-tournament qualifiers Edison and Oakton, but bounced back to win a Conference 6 championship and finish 23-7.
"I'm truly proud of how far we've come," Hermes said. "I think people did have their doubts at the beginning of the season with those losses we came off of."
Westfield Boys' Advance to State Final with 3OT Victory
The Westfield boys' basketball team received late-game heroics from multiple players during a 64-60 triple-overtime victory over Landstown in the 6A state semifinals.
Westfield will face Colonial Forge in state championship game at 7:15 p.m. Saturday.
Friday's game tied for the second-longest game in state final four history. Booker T. Washington and T.C. Williams played a four-overtime contest in 1980.
Patrick Lawless' jumper put Westfield ahead to stay with 1:27 remaining in the third overtime. He iced it by making 1 of 2 free throws with 7.3 seconds remaining.
Tyler Scanlon tied the game at 54 with a 3-pointer late in the second overtime period.
Jacob Williams's steal and layup gave the Bulldogs a 49-48 lead late in regulation.
Scanlon led Westfield with 20 points. Blake Francis finished with 17.
Oakton Girls Fall to Hot-Handed Bethel
The Oakton girls' basketball team entered the state semifinal on a 26-game win streak.
On Friday, the Cougars ran into an even hotter opponent.
Bethel shot 58 percent from the field, including 6-of-6 from 3-point range, and the Bruins beat the Cougars 73-63 in the 6A state semifinals.
Bethel jumped out to a 17-4 lead in the first quarter and led for the entire contest.
Oakton pulled within two when Alex Marquis' three-point play with 2:38 left in the fourth quarter made the score 63-61, but Bethel closed the game with a 10-2 run.
Marquis and Delaney Connolly each scored 16 points for Oakton. Karlie Cronin had 13.
Kayla James and Nyra Williams each scored 21 points for Bethel.