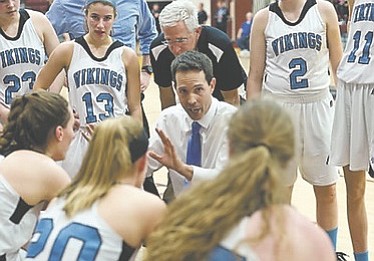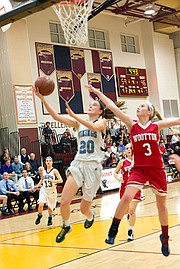 The Whitman girls' basketball team's undefeated season came to an end March 12, when the Vikings lost to Eleanor Roosevelt 48-30 in the 4A state semifinals at Towson University.
Whitman entered the contest with a 23-0 record, but played without standout guard Marie Hatch, who fractured her right ankle near the end of the Vikings' 73-60 victory over Wootton on March 9 in the 4A West region final.
How much did the team miss Hatch?
"A ton!" Whitman head coach Pete Kenah wrote in an email. "She is our best defender and we had no answer for their top perimeter threat, Kaila Charles. We also had 24 turnovers when we averaged only 11."
Roosevelt used a box-and-one defense to deal with Whitman's leading scorer, Abby Meyers, who was limited to four points. Hannah Niles led the Vikings with 16 points, accounting for more than half of Whitman's offensive output.
Whitman shot just 27 percent after averaging 41 percent during the season.
Roosevelt went on to beat Paint Branch in the state championship game.
"[It was a] historic season," Kenah wrote. "First undefeated one in school history. Really enjoyed every step of the journey."
Whitman will graduate seniors Nicole Fleck, Samantha Magliato, Annabelle Leahy and Alison Poffley. However, the Vikings will return several talented players next season, including Meyers, a 6-foot guard who received a scholarship offer from George Washington Universityon Monday, junior guards Hatch and Niles, and junior forward Betsy Knox.
What can the team take away from this year's experience for next year?
"The sacrifice it takes to win the region and be a close team," Kenah wrote. "We have the talent to make a deep run."