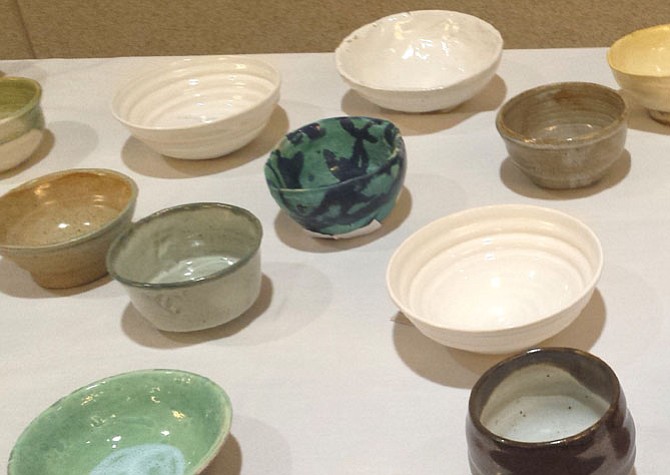 Described as a grassroots initiative to help end hunger, Empty Bowls brought together local artists, restaurants and individuals concerned about hunger, in Springfield's first ever Empty Bowls event on March 12. The event was held at Springfield's Hilton Hotel, and for a minimum donation of $25, attendees enjoyed a lunch of soups and breads from Chuy's, La Madeleine, Maggiano's Little Italy, Teaism and Yard House. All proceeds from the sale of the art bowls went directly to the Capital Area Food Bank, which distributed 5.6 million pounds of food to children, seniors and families in Northern Virginia this year with the help of 129 food assistance partners, including Martha's Table, churches and soup kitchens.
"It's amazing how people don't realize the plight of hunger in the area. Every block has hungry people," said John Jaeger, board member of the Capital Area Food Bank (CAFB) and chairman of the YRCI. Fairfax County consistently ranks as one of the wealthiest counties in the nation, making poverty seem like an anomaly. But this reality is startlingly close to home; 7 percent of people living here experience hunger, and 12 percent of those people are children.
"I make donations every year and received an email about this event," said Alexandria resident Gloria McGee. "Since they were having it here in Virginia, I decided to participate."
"Huger is the beginning of the cycle of poverty," said Jaeger. "If you're hungry, you're not going to develop as well mentally. [You're] not going to do as well, academically."
The Empty Bowls event drew a crowd of 130 to 140 people.
"It's just terrific to be able to bring the story into Virginia. I've lived in Fairfax and Arlington Counties and unfortunately there's lots of people who need support, and there's lots of ways Virginians can help," said Nancy Roman, president and CEO of CAFB. "It's all about awareness."
"I heard about the event in the Chamber of Commerce. This is my first time here," said Karen Fountain, Springfield resident who has volunteered in the past with ECHO, who also mentioned her surprise at the statistics mentioned.
For more information or to find out ways to volunteer, visit http://www.capitalareafoodbank.org/cafb-programs/