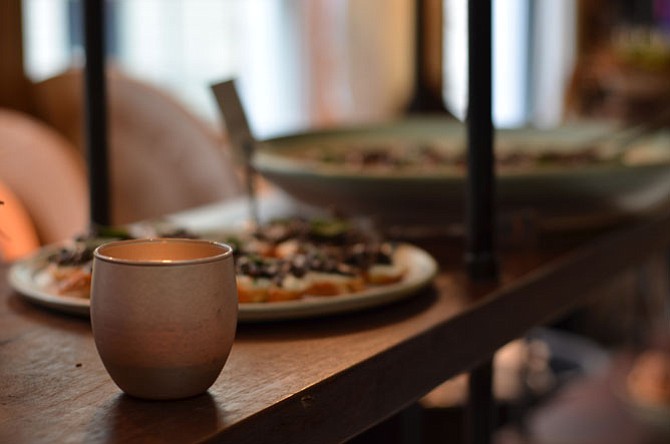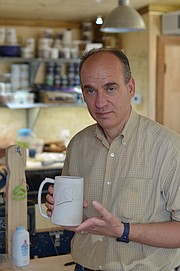 The Herndon based business Potter's Fire has donated $10,500 in handmade pottery to be auctioned off at Bootlegger Bash for the Fort Campbell Spouses Club on March 20. Proceeds from the auction go toward welfare requests and will provide scholarships to high school seniors and family members of military personnel accepted into higher education programs. Potter's Fire is a pottery studio which makes handmade pottery using raw materials and tools sourced within the United States. "This was a special project," says Mike Faul founder and owner of Potter's Fire.
Located at 797-B Center Street in Herndon, Potter's Fire sells three lines of 100 percent American handmade ceramics. One of these lines, the Heritage Line, celebrates military service. In summer 2014, Potter's Fire launched 101st Airborne Division tankards on Facebook. Within days, the division swarmed Potter's Fire's Facebook page, purchasing thousands of mugs and steins. The support of the 101st Airborne launched both the Heritage Line and Potter's Fire's business. It left the company looking for an opportunity to say thank you.
"It didn't take long after receiving an email from the Spouse's Club at Fort Campbell to know, that this was our opportunity to say 'Thanks' to the 'Screaming Eagles'," says Faul. Potter's Fire donation to The Fort Campbell Spouses Club includes up to 150 handmade mugs, cups and tankards. It will be enough to equip an entire airborne company of soldiers. Recipients have the opportunity to have their pieces customized with various glaze schemes, unit insignias and hand-engraved personalization. The Fort Campbell Spouses Club is ecstatic to receive this gift.
"I am completely overwhelmed," says Jessi Mitchell, president of the Fort Campbell Spouses' Club. "[Potter's Fire] has gone above and beyond anything we could have ever imagined. As an artist by trade, I appreciate the impeccable craftsmanship and uniqueness of each piece. Each one is truly going to add something so special to this year's event, which is already setting records by being sold out for the first time." The highest bidder will get a certificate for the ceramics which will be available in April.
Faul's father had a full career in the military, retiring as a brigadier general in 1973 and later worked as president and CEO of Vie de France. After his father passed in 2011, Faul took a class in ceramics at the Northern Virginia Community College (NOVA) Sterling campus. From there, Faul was inspired to begin his new ceramics business in downtown Herndon. For more information about Potter's Fire, visit www.pottersfire.com. To learn more about the Fort Campbell Spouses Club and the Bootlegger Bash, visit www.fortcampbellspousesclub.com.