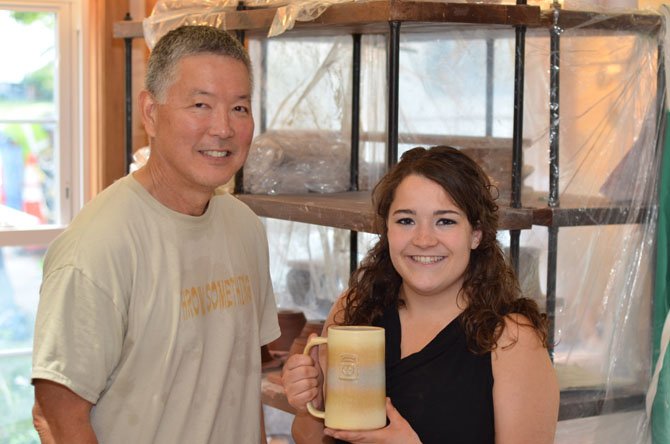 Photo Gallery
Potter's Fire Grand Opening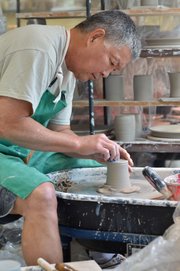 Click Photo for Flash
Mike Faul's business Potter's Fire will be holding its grand opening this week in Herndon at 797-B Center Street. Previously, Faul had operated a marketing agency at this location. "My first exposure to ceramics was in junior high school, about 41 years ago," said Faul.
Faul closed his business in Herndon to take care of his father, Llyod J. Faul, who had Alzheimer's, after his mother passed away. Faul's father had a full career in the military, retiring as a brigadier general in 1973 and later worked as president and CEO of Vie de France. After his father passed in 2011, Faul took a class in ceramics at the Northern Virginia Community College (NOVA) Sterling campus.
"After my father passed, he had some wonderful mementos and one was a ceramic beer stein, a mug that is now 50 years old," said Faul. "I thought it was a wonderful thing and I wondered why do we not do these things any more. The idea of an American craftsmanship is becoming sort of a lost art. I thought, why not do this, help create special gifts so that people can say, I had this made for you."
WHILE TAKING CLASSES at NOVA, Faul meet Steven Shiraishi. "We were classmates at the NOVA community college campus from 2011 to 2012," said Shiraishi. "It was there during class that I heard Mike was interested in a pottery thing." Shiraishi served in the Army National Guard and worked with the federal government in Springfield for 25 years before retiring.
"I started taking pottery seriously in 1973. I have a bachelor's degree in ceramics, and I had a pottery business in Hawaii which I gave up in the late 1980's for the job with the federal government," said Shiraishi. "Now the shop is in production mode and it has become a lot of fun." In addition to working with the pottery, Shiraishi helped with the redesign of store. The building and space of Potter's Fire covers about 600 square feet.
"Herndon has wanted to attract artistic businesses in downtown Herndon," said Faul. "We decided to do everything by the book, and this is designed to be an artistic production facility. All our tools and instruments are bought locally. It wasn't always easy, but it was the right thing to do." The kilns, clay and display shelves bear the name of Faul's company, Potter's Fire.
Olivia DiBenigno is a new employee with Potter's Fire. A resident of Alexandria, DiBenigno graduated from Maryland Institute College of Art with a major in ceramics. "I am really excited about the upcoming grand opening," said DiBenigno. "I really love small businesses, and I enjoy the production and handmade aspect of pottery."
Faul began to envision ways he might honor his father and men and women who serve in the armed forces, and he saw pottery as a medium. Potter's Fire and the "Heritage Collection" became an expression of his passion and vision as an artist potter and former sales consultant.
"It took about a year to perfect the design we called the 'Heritage Collection' line," said Faul. Heritage features a number of products that will bear the seals and regimental crests of the branches of the military and other such first responders. "We have been getting tremendous response for this design, and we are currently working on a set for a serviceman on Marine One," said Faul.
THE TWO OTHER Potter's Fire handmade dinnerware and houseware collections are styles "agape" and "artisan." The style agape is custom-designed dinnerware celebrating newlyweds and commemorating special anniversaries. "With agape line we give a breakage guarantee. We want people to have this as an heirloom to be passed down from generation to generation," said Faul. The style artisan is handmade pottery and sculptures beautifying home and garden. "This selection is artistic expression including fountains, garden pots and sculptural items," said Faul.
Faul was able to construct his business with the assistance of Mayor Lisa Merkel and the Herndon Town Council. Faul explained Mayor Merkel helped obtain the proper zoning to his old office space into a pottery studio for Potter's Fire. Construction work began in June of this year.
Faul said giving back to the community is a big part of the business, and important to his family. They said Potter's Fire will donate a minimum of 10 percent of sales to charity, starting with the Fisher House Foundation.
The Council for The Arts of Herndon hosts an Art Crawl event on Wednesday, Oct. 9. Visitors can stroll the downtown area, stop into various eateries, and see local artists and their work. Potter's Fire will participate, and offer a sneak peak at their wares and studio. Light refreshment will also be served and no invitations are necessary to visit. A formal grand opening ceremony is scheduled for the business on Thursday, Oct. 10 from 4 to 8 p.m.
The studio is open to the public Tuesday through Friday from 10 a.m. to 6:30 p.m. and Saturdays from 10 a.m. to 5 p.m. The company's official webpage is http://www.pottersfire.com.