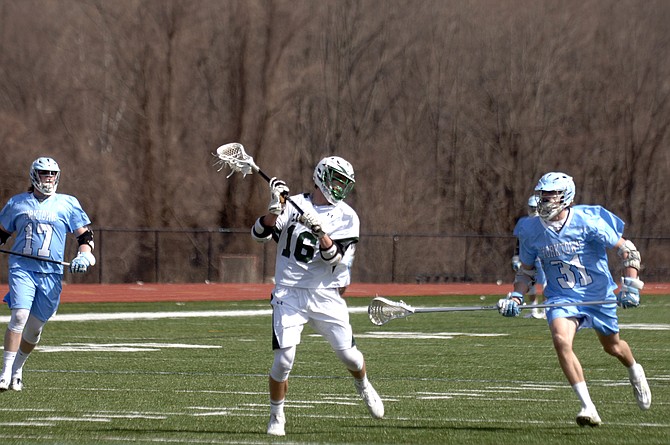 The Langley boys' lacrosse program ended the 2014 season with a loss to Robinson in the 6A state championship game.
Nine months later, the Saxons opened the 2015 campaign in equally painful fashion --- at least to one prominent Langley goal-scorer.
Langley lost to McLean 9-4 on March 17 in the Saxons' season opener. While the schools are rivals, it was the McLean boys' lacrosse team's first victory over Langley in program history.
"It was probably right up there with losing a state championship --- the worst feeling I've ever felt in my sports career," Langley senior attackman Weston Simonides said. "We [had] never lost in school history to them, so that meant a lot to us."
Four days later, Langley, one of the most decorated programs in the state, returned to its winning ways.
The Saxons jumped out to a 4-0 lead and scored the final six goals of the afternoon during a 12-4 win over Yorktown in the Saxons' home opener on March 21.
LANGLEY LED 6-4 in the third quarter before a goal by junior attackman Jon-Michael Duley sparked a 6-0 run for the Saxons and helped Langley win the rematch of last year's Conference 6 championship game, which the Saxons won 10-9.
Langley has reached the state final in five of the last six seasons and won four consecutive state titles from 2009-2012.
"Everything was just clicking today, offensively," Simonides said. "The chemistry that we had last year is finally showing again. ... It felt right again."
Simonides tied a career high with four goals and added two assists against Yorktown. His final goal extended the Saxons' lead to 10-4 with 5:16 remaining in the fourth quarter.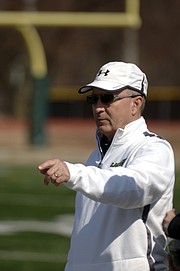 "We needed that from Weston," Langley head coach Earl Brewer said. "His two running mates last year --- Billy Orme (Wagner College) and J.T. Meyer (Kenyon) --- those two guys are playing in college right now and Weston has had to assume a bigger role. Sometimes he tries to do too much. When he plays his game, he's a great player. When he tries to do too much, he's just a regular, average player. And he's not a regular, average player. He's a very good lacrosse player."
Sophomore midfielder Joseph Ulepic and Duley each scored two goals for Langley.
Brewer said senior midfielder Michael Carswell, who is relatively new to the sport of lacrosse, could be a key player for the Saxons later in the season.
"Once he gets it --- and he's starting to get it --- he's going to be a force," Brewer said. "He's like 6-3, 6-4 and 200 pounds and he runs like a deer. I can't wait to see what he does in May because he's going to be good."
Langley improved to 2-1 Monday with a 7-6 victory over Dominion. The Saxons will travel to face Robinson at 8 p.m. on Saturday, March 28 in a rematch of last season's 6A state final.
While the season-opening loss to McLean was painful for Simonides, Brewer, the Saxons' long-time head coach, placed little importance on the early-season contest.
"I've been here 21 years, I've been coaching 34 years, losing in March never bothers me," Brewer said. "Losing in May or June, that bothers me. ... I don't like to lose --- I'm a competitor like all these other coaches are --- but I forgot it as soon as it was done.
"... You can't let the kids dwell on it because they'll hang onto losses more than we will --- especially when you're a senior. You realize, 'Oh, we lost to McLean; we've never lost to McLean in our history.' But, who cares?"
SIMONIDES gave McLean credit, but sounded confident about a potential rematch.
"They came out, they played a great game, they were the better team that night," he said, "but I'm sure we'll be able to get them in the postseason."