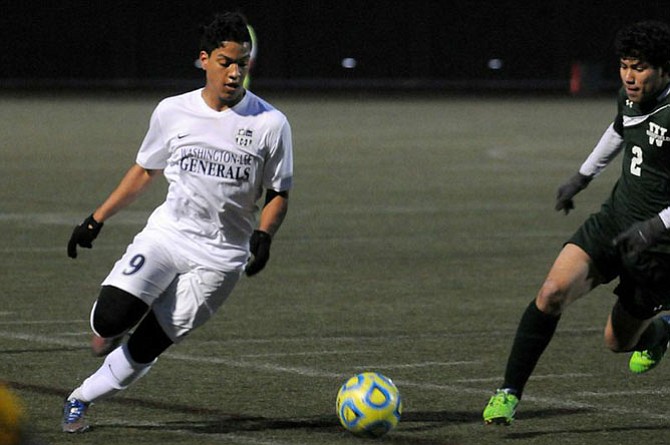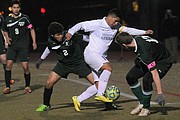 "Our goal is to win states. We were there once, we were so close, now we're really hungry to get back there and hopefully win it this time."
— W-L junior Maycol Nunez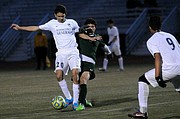 Washington-Lee forward Maycol Nunez dominated opponents during a stellar sophomore season, scoring 37 goals while leading the Generals to the 2014 VHSL 6A state final.
Now a junior, Nunez and the W-L boys' soccer team received a glimpse on March 27 of a defensive-minded approach they are likely to encounter from opponents during the 2015 season.
W-L generated ample opportunities against Arlington foe Wakefield on Friday, but failed to find the net during a scoreless draw at Washington-Lee High School. Each team had a goal negated by an offside call.
"They'll pack it in tight, absorb as much as they can," said W-L head coach Jimmy Carrasquillo, describing the defensive approach the Generals figure to face often this season. "If we don't finish early, if we don't get [a goal] in early, then that's what happens. They'll absorb as much as they can and once we get one in, then they want to press and they want to get forward and then we have more of an opportunity to play.
"… Now teams know what to expect. They're going to sit back, they're going to absorb, they're going to push one or two guys high, try to catch us on a counter, do something like that. I told them we're going to see it, we're going to keep seeing it all season long. We just have to keep knocking the ball around."
Friday's result moved W-L's record to 3-0-1 and served as a reminder that the Generals — and Nunez — won't be sneaking up on opponents this season.
WASHINGTON-LEE FINISHED 2014 with an 18-2-3 record, captured the Conference 6 championship and beat Grassfield 1-0 in the state semifinals. The Generals' only losses were to T.C. Williams in the 6A North region final and the state championship match.
With Nunez back, the Generals are expected to produce another successful season.
"I think they're handling [expectations] well," Carrasquillo said. "It's one of those things where I keep reiterating the fact that, hey, we haven't won anything. We're going on what we did last year. A lot of people have that expectation. They can have that expectation, but it's up to us to keep playing. It's up to us to keep grinding out there in practices, showing up for every game because we're going to get everybody's best."
The primary reason for lofty expectations is the return of Nunez. The Honduran native was unstoppable as a sophomore. He scored four goals against Marshall in W-L's 2014 season opener, totaled 10 goals in the Generals' first three matches, and later torched Robinson with five goals. Nunez scored multiple goals in 10 matches, and produced a hat trick on seven occasions. His three-goal performance against West Potomac in the region semifinals gave him 37 for the season and helped W-L secure a trip to the state tournament with a 4-2 victory.
Nunez received a red card against T.C. Williams in the region final, forcing the forward to miss W-L's state semifinal match against Grassfield. The Generals won without their scoring leader, and advanced to the state final.
Nunez' monster season has led to opponents focusing on stopping No. 11.
"It would be unfair to say I have the same expectations because now everybody knows Maycol," Carrasquillo said. "Last year, they didn't now Maycol. Last year, he was some sophomore on the varsity team. Once he scored a couple hat tricks, then they said, 'OK, who's this kid?' Then the man-marking and the double-teaming started late in the season. That's all they do now. They know where he is, they know who he is, so we're looking at other people to step up — and they have been."
Nunez leads the Generals with four goals this season.
"Last year, I liked the attention and everything, all the goals and everything, but my mentality changed," Nunez said. "I know that to win states, I've got to work with my teammates, not just me. I don't really care if I score or not. As long as we win, I'll be happy."
Freshman forward Abdessamad Belfiroud has stepped up early for the Generals, scoring three goals.
"He's been doing well for us up top," Carrasquillo said. "He's been taking some of that pressure away from Maycol because nobody knows him. … [He is a] very good player."
Senior midfielder Roger Rojas, sophomore forward Genry Baires, junior midfielder Jacob Muskovitz, senior midfielder Jacob Campbell and senior forward Samuel Felix-Hernandez each have one goal.
Junior goalkeeper Julian Esquer-Perez and the Generals have not allowed a goal this season.
Washington-Lee will travel to face Edison at 7 p.m. on Tuesday, April 7.
"Our goal is to win states," Nunez said. "We were there once, we were so close, now we're really hungry to get back there and hopefully win it this time. … Ever since the state championship [loss to T.C. Williams], that's all I've been thinking about."