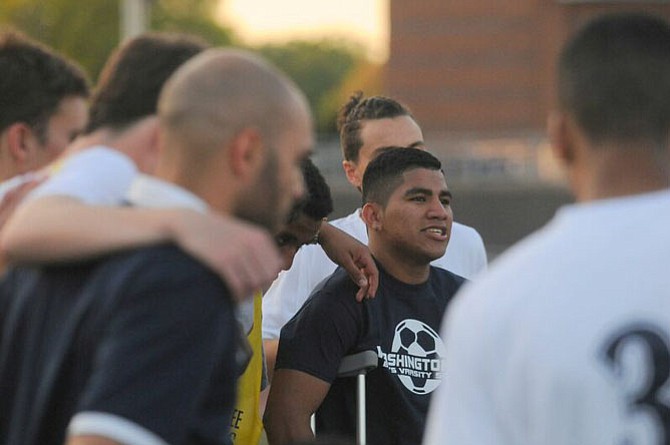 Maycol Nunez sits at the end of the Washington-Lee bench during the first half of Monday's match against Mount Vernon, with his lower left leg in a cast and his support directed toward his teammates on the field.
During halftime, with the Generals leading 3-1, Nunez moves around with the aid of crutches before returning to his spot on the bench.
After the match, with the W-L boys' soccer team having maintained its undefeated record with a 6-1 victory on its home field, Nunez describes the injury he suffered four days prior — an injury that will leave one of the area's best teams without one of the area's best players for the remainder of the 2015 season.
"I heard something. That's when I knew my season was over," Nunez said about his broken fibula and fractured ankle resulting from an opponent's tackle during the opening minutes of W-L's match against Hayfield on April 30. "… I tried to get up and I couldn't. … I heard a snap."
Nunez, a junior forward and team captain, has been a goal-scoring star for W-L since the start of his sophomore season. He scored 37 goals during the 2014 campaign, which ended with the Generals reaching the 6A state final. W-L finished the year with an 18-2-3 record, with its only losses coming against T.C. Williams in the region and state championship matches.
This season, Nunez managed eight goals during the Generals' 9-0-1 start despite being the focal point of opposing defenders.
On April 30, Nunez was injured early in the Hayfield match and was taken to the hospital. His teammates held off the Hawks, 2-1.
Nunez will have surgery on Wednesday, May 6, and faces a six-month recovery.
On Monday, May 4, W-L played its first match with an injured Nunez watching from the bench. The Generals scored three goals during a 4-minute stretch in the first half and cruised to a 6-1 victory over Mount Vernon, improving their record to 11-0-1.
After the match, head coach Jimmy Carrasquillo and others spoke about Nunez's talent and the impact he has during a soccer match. However, the Generals are confident they can continue winning without their star, and their goal of returning to the state final hasn't changed.
"I don't want to say it doesn't matter, but if we play as a team and we do what we can do, it doesn't matter who's up top," Carrasquillo said. "Maycol's definitely more dangerous — he causes more problems — but we still have a couple guys that can step up and score some goals."
One player who stepped up Monday was Algeria native Abdessamad Belfiroud. The freshman forward scored three goals, including two during a 4-minute stretch in the first half.
"I think he's up for it," Carrasquillo said when asked if Belfiroud can help fill the void created by Nunez's injury. "He's always been there; he's always been that guy who can do it. ... Maycol is explosive. Maycol puts it into a second gear and he's gone. Abdessamad, he doesn't have that gear, but he's got that footwork. He definitely has that footwork where he can kind of take players on. Just get one or two guys stepping the wrong way and then he can finish."
Senior midfielder Roger Rojas and sophomore forward Genry Baires each scored a goal against Mount Vernon. Junior defender Miguel Ortiz scored a phenomenal goal in the 53rd minute, using his left foot to bend a corner kick into the net.
"That was beautiful," Carrasquillo said.
How did Ortiz react after the goal?
"I went crazy," he said. "That's a great goal. You never imagine yourself doing that. It surprised me."
Ortiz said the Generals have to play as a team to compensate for the loss of Nunez.
"I think losing Maycol has a huge impact on the team," Ortiz said. "He's a great player and last year he had a great season. But we came [together strong as a team] and we know that we have the talent to make it really far and make it to states again.
"... When he's there, we know we have someone to pass [to], someone to give the ball and he'll know what to do with the ball. That's what he gives to us. When he's not there, we definitely have to make other plays to find our goals."
Carrasquillo said senior midfielder Jacob Campbell and junior midfielder Geronimo Kurzbach are also offensive threats.
The Generals' regular-season finale is at 7 p.m. on Thursday, May 7 at Falls Church. The Conference 6 tournament begins May 15. While W-L will attempt to maintain its undefeated record, the team's best player will be relegated to cheerleading duty.
"I hate being on the bench, but I'm glad that we won and I was here to support my team," Nunez said Monday. "I'm glad they can see that I'm with them and I'm glad that they're with me, they support me."
Belfiroud said Nunez's attitude helped the Generals respond well to his season-ending injury.
"He supports us to play good," Belfiroud said, "to keep it up."
How does Nunez stay positive?
"I always say every setback has a major comeback," Nunez said. "I know with God's help, I'll be back sooner than we all think and I'll be back stronger and hungry for success."