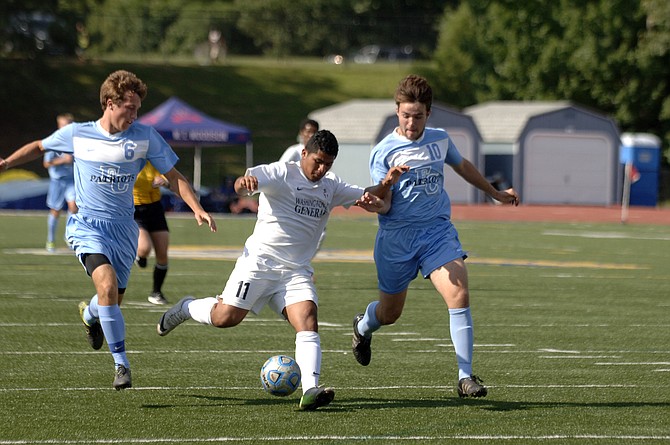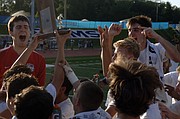 Washington-Lee forward Maycol Nunez dribbled the ball between a pair of First Colonial defenders early in Saturday's 6A state championship game when a third Patriots player came over to assist his teammates.
Once inside the 18, Nunez's right foot contacted the foot of a defender, causing the W-L striker to fall forward. Rather than trying to convince the referee of a foul by going to the ground, Nunez placed both hands on the turf and continued fighting to maintain possession and regain his balance.
A fourth First Colonial defender got involved before Nunez was able to get upright again. On this day, however, with a state championship on the line and adversity faced in previous seasons serving as motivation, not even a four-on-one advantage could help First Colonial stop a determined Nunez.
No. 11 in the white kit fought through the group of First Colonial defenders, took a shot and beat the Patriots keeper, giving the Generals a 1-0 lead. Nunez's goal in the fifth minute set the tone for the Washington-Lee boys' soccer team, which captured the first state championship in program history with a 3-1 victory over First Colonial on June 11 at Robinson Secondary School.
Nunez scored a second goal in the 25th minute, bending the ball between a pair of defenders and inside the back post for a 2-0 W-L lead. First Colonial cut the Generals' lead to 2-1 with a goal in the 56th minute, but W-L added some insurance in the 74th minute, when a slick pass by Gatorade National Player of the Year Lucas Mendes ­­­ which ended up as a top 10 highlight on ESPN ­­­ led to a goal by Benhur Gebretnsaie.
Saturday's state championship was the first for a Washington-Lee team in any sport since the girls' tennis team took home the state title in 1977, W-L Director of Student Activities Carol Calloway said.
"It's unbelievable," 17th-year W-L head coach Jimmy Carrasquillo said about the Generals winning the program's first state title. "[I'm] just proud of my boys, proud of the team, happy for the school, happy for Arlington that we could do something like that for the community. It's great."
W-L made history thanks in large part to Nunez, who scored six goals in two state tournament games, including four in Friday's 6-0 win over Grassfield in the semifinals.
On Saturday, Nunez's desire to push forward --- and stay on his feet --- led to his first goal of the state final.
"That's one thing I do, man, I never dive --- no matter what," Nunez said. "I remember my travel coach used to get mad at me. He's like, 'Dude, go down at least once.' I was like, 'No, that's not how I play.' ... I never dive ­­­ unless the guy really fouls me all the way down, unless he breaks my leg. That's not the game. Soccer already has a bad name because of people diving."
Nunez's second goal resulted from a shot that split two defenders before bending inside the post.
"That's just him," Carrasquillo said. "One goal, he's barreling through people, taking on guys and finishing with ease and then the next one he's bending a ball 25 yards out. That's just the type of player he is. Sometimes I want to pull him by his ears, and other times you just can't help it: 'Oh my gosh, that was unbelievable.'
"... He doesn't like to go down. He's not the type of kid that will go down. ... Maycol will fight through anything. That's just his style. He likes the contact; he thrives on it, so the fact that he's able to kind of get through that and finish that one goal was great."
Nunez suffered a right hamstring injury during his second goal and sat out for the remainder of the first half. He returned to action in the 52nd minute, but went back to the bench in the 68th minute.
"I just felt like I had to be out there," said Nunez, a four-year varsity athlete who will play college soccer at UMass Lowell, "because this has always been my goal, basically since I got to this school, but mostly after sophomore year."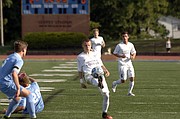 Late in the game, Mendes sent a rabona cross that led to Gebretnsaie's goal.
"That's my natural position ­­­ wide left," said Mendes, who will play at the University of Virginia. "I got the ball and I was 1-v-1 so I had to expose him. I beat him down the line, played a nice cross in and we got the goal."
W-L finished the year with an 18-1-2 record, including a third straight undefeated regular season. The Generals' only loss came to rival Yorktown in the Conference 6 tournament semifinals. The Patriots went on to capture the conference title, but W-L responded by winning its final six matches, including a 3-0 victory over Yorktown in the 6A North region final.
After surrendering three goals to Yorktown in the conference semifinal loss, W-L allowed three in its final six games, thanks in part to senior defender Noah Goodkind.
"Noah Goodkind, he was here sophomore year," Carrasquillo said. "He's not the flashiest player, he doesn't look like a D-1 athlete, but he's just a great soccer player ­­­ great heart, knows what to do, calm under pressure."
Goodkind praised W-L's offensive firepower.
"[Nunez] brought us up," Goodkind said. "In that first 20 minutes where he scored his first two, gave us an awesome cushion, he does that game after game ­­­ him and Lucas. They give us nice cushions to work with, take some of the pressure of our back four and midfield."
W-L's state championship came two years after the Generals lost to T.C. Williams, 2-0, in the 2014 state final. Nunez scored 37 goals that season and W-L finished with an 18-2-3 record, but the Generals' two losses came against TC in the region and state championship games.
Last year, Nunez suffered a broken left fibula and ankle late in the regular season. W-L entered the Conference 6 tournament as the No. 1 seed with an undefeated record, but lost to McLean in the opening round, ending the Generals' season.
"All the things that I went through make this really special," Nunez said. "Especially losing a final, breaking my leg my junior year and now we're here senior year. Nothing stopped this team."
W-L compiled a 48-4-6 record over the last three seasons. On Saturday, the Generals added a state championship.
"It kind of puts things in perspective," Carrasquillo said. "You could have a great season all the way through the tournament ... but until you get here, until this is the end result, it doesn't mean anything."