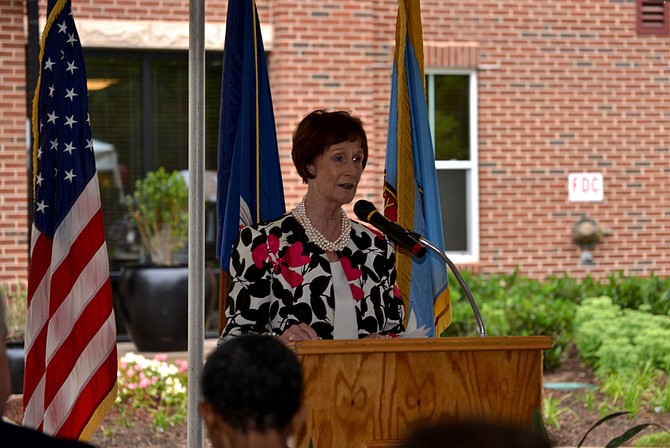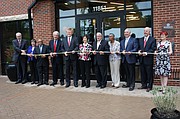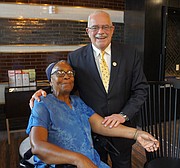 Over the years, Bernice Dolberry has lived in a number of apartments around Fairfax County. Not all of them have been located in the most desirable of neighborhoods. Some were not particularly well maintained by the management company. But as a cancer care technician, and then as a retiree on a fixed income, Bernice has often had to make do to live as close as possible to work and to family.
In December of last year, Dolberry became the first occupant of the Residences at Government Center, located on Monument Drive near the county's government headquarters. She said, "Nothing will get me to move from here. It's beautiful, meets all of my needs, and the people here are polite, professional and so caring." Dolberry had been most recently living in an apartment that didn't accommodate her wheeled mobility walker. She heard about the Residences and learned that there were some units that were handicapped accessible. "This is a dream come true." Since moving in, Dolberry has "recruited" her granddaughter with her two great-grandchildren, as well as a good friend, to become her neighbors in the complex.
Dolberry was present at the ribbon-cutting ceremony that took place on Monday, June 5, with a host of officials and stakeholders on hand to celebrate what Board of Supervisors Chairman Sharon Bulova described in her remarks to the crowd as "the result of a truly unique, creative public-private partnership that did not cost our taxpayers a single cent."
AFFORDABLE HOUSING — or the lack of it — continues to be a major concern in Fairfax County. As Bulova noted, the issue is not only one of basic human services, but also an obstacle to the economic welfare of the county, if the workers needed to support local employers cannot live within its boundaries because of the cost of "market-priced" housing.
County officials have long recognized the problem. The Residences has been on the drawing board for years, but things like "a little recession" kept stalling progress, said U.S. Rep. Gerry Connolly (D-11), who was one of the speakers at the event. Connolly praised the perseverance of those involved. "This project is a real statement about our values in this community," he said.
"This represents the heart of our board, a real commitment," echoed Supervisor Cathy Hudgins (D-Hunter Mill). Hudgins also suggested that the success of the Residences should act as the impetus to quickly review other creative redevelopment possibilities. "Let's look at other land we have, at empty buildings that could be re-purposed."
Speaker John Cook, the Braddock District supervisor, applauded partners Stratford Capital Group Development (SCG), the Jefferson Apartment Group, and the Fairfax County Redevelopment and Housing Authority for never giving up on the project. "Fairfax County could never have built this for ourselves. It would have been outside our reach," said Cook.
Stephen Wilson, president of SCG, and Gregory Lamb, executive vice president and managing partner of Jefferson Apartment Group explained to the audience just how the partnership managed to pull off construction of a 270-unit property with a hidden parking garage and containing many "market-priced" amenities like a fitness center, a community room, a TV lounge and a pool — all without cost to the taxpayer, still affordable for residents, and without it being a major loss on their own financial books.
Basically, the profitability portion comes from the fact that the land is owned by the county. "That was the county's share in the project," said Wilson. The rest was the result of SCG and collaborators' use of tax credits to get the complex across the line.
Partnership and perseverance have resulted in a living community that fits into the surrounding residential neighborhood and is close to public transportation and a wealth of amenities. "I can actually ride my scooter to Wegmans," said Dolberry. "Safely on a sidewalk, alongside a path of trees."
THE RESIDENCES, as Bulova and Hudgins noted, is a diverse community, reflecting the population of the county. Young professionals, retirees, and residents on lower incomes share the hallways, common areas and amenities. Bulova pointed out that there are about 20 county employees among the residents, like Dawn Sherman, a mental health coordinator who moved in six weeks earlier, "straight from my parents' house." Sherman was delighted to show off her studio apartment. "It's perfect and it's all mine."
"It's been a long, long, long time coming," said Hudgins, "but well worth the wait."
Dolberry agreed. "That's the truth. I have finally found home."