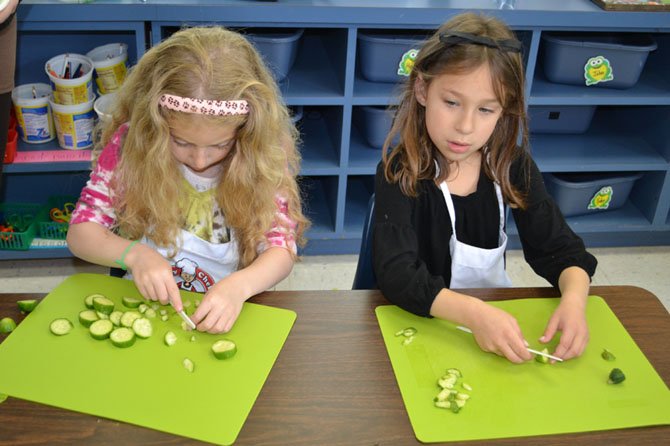 "If you lick your hands you have to wash them," said instructor Beth Bigler as she teaches a class of kindergartens students how to make vegetable pizzas.
"Are these pickles?" asks a 6-year-old student as she clutches a dark-green, cylindrical vegetable in her tiny fingers.
"No, these are baby cucumbers," said Bigler. "We need to cut the ends off and then chop them up very, very finely. Always put it on a cutting board so you don't cut your hands. We're going to do the same thing with the celery and carrots. We have lots of vegetables to cut."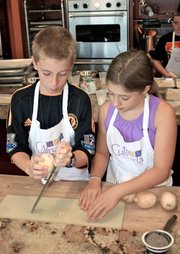 Soon the click-clop of plastic knives hitting cutting boards fills the air, along with the giggles and squeals of curious young foodies.
This is a typical session for Tiny Chefs, one of a handful of local culinary schools that cater to children. In these classes, pint-sized gourmands are introduced to all things epicurean. They also learn about kitchen safety and the importance of eating healthy food. Instructors say the lessons extend beyond the edible.
"Cooking classes for kids build and instill confidence," said Anna Reeves, founder of Tiny Chefs. "Children get to do things that they didn't think they were able to do. A 4 or 5-year-old may not be used to someone handing them a bowl or spoon and saying 'Stir this all by yourself.'"
In addition to after school classes like the one at Norwood, local culinary schools offer parent-child classes, seasonal classes, holiday classes, cooking birthday parties and cooking summer camps. The level of complexity depends on the age and interest of the children.
"We teach simple techniques like sautéing and braising," said Stephen Sands CEO of Culinaria Cooking School in Vienna. "Students make full meals in our summer camps. We have other classes during the year. We do a pasta class where kids make fresh pasta. They learn what goes into it instead of just seeing it come out of a box. They learn how to make sauce instead of just opening a jar."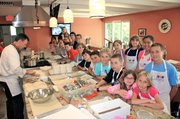 DURING A TYPICAL CLASS, pint-sized culinary enthusiasts come in, wash their hands, don aprons and begin the prep work for the day's dish.
Classes are often divided by theme and culinary discussions are intermixed with food preparation. "The theme this session is 'On the Farm," said Bigler, an instructor with Tiny Chefs. "Students learn about fresh vegetables and where they come from."
Students are introduced to new ingredients or get hands-on experience with familiar food items. "Maybe they've heard of cinnamon, but have never smelled or touched a cinnamon stick," said Reeves. "They've probably heard of eggs, but they've never actually cracked one."
Instructors say the lessons can also be academics disguised as recreation. "They have so much fun that they don't even realize that they are working on math and reading skills," said Arlington resident Whitney Gray, director of auxiliary programs at The Langley School.
"Students learn how to use cooking tools and they get to add and subtract fractions by using measuring cups," said Jennifer McInroy, a Tiny Chefs instructor who teaches classes and summer camps at The Langley School in McLean.
Social skills are also enhanced. "With five or seven kids in a group they learn to wait their turn and cooperate work together and have patience," said Reeves.
An increasing number of local schools are offering cooking classes as an afterschool activity for students.
"Cooking is an important life skill," said Liz Holland, afterschool activities coordinator at Alexandria Country Day School. "Children definitely need to be making healthy choices for themselves and having those skills is definitely enriching."