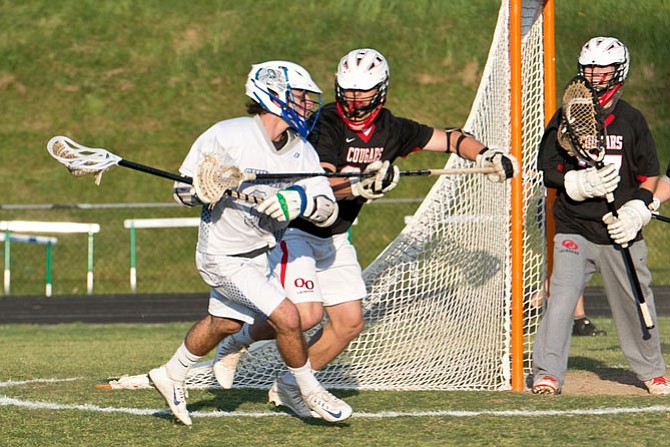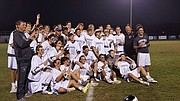 After overcoming a halftime deficit, the Churchill boys' lacrosse team was moments from winning the 4A/3A West region title when Quince Orchard netted the tying goal with five seconds remaining in regulation.
After dealing with the shock of a victory snatched away, the Bulldogs had to battle fatigue as the team played in its second double-overtime contest in three days. Senior attackman Louis Dubick, who earlier in the night became Maryland's all-tine leading goal scorer, was hampered by a back injury that restricted his movement.
As if that wasn't enough pressure, Churchill lost possession in the second overtime period, giving Quince Orchard a chance to end the Bulldogs' season in sudden-death fashion.
With momentum pointing in the opposite direction, the Bulldogs would find a way to pull together, however, and keep their dream season alive.
Churchill regained possession and senior midfielder Derek Altobello scored the game-winner, lifting the Bulldogs to a 10­9 victory on May 13 at Churchill High School.
Two days after beating Whitman 12-11 in double overtime in the region semifinals, Churchill won its third region championship in the last four years with a dramatic victory over Quince Orchard.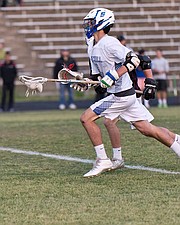 "I was in the middle of the field. There was nobody within 20 yards of me," Altobello said. "[I] caught the ball, turned around and said if I miss, that's my career."
Altobello didn't miss and his career continued. Three days later, Churchill secured its first trip to the state championship game by defeating Dulaney 11-8 in the state semifinals on May 16 at Northeast High School.
The Bulldogs will face Howard in the 4A/3A state final at 8 p.m. tonight at Stevenson University in Owings Mills.
"We think we have more talent now than ever," Altobello said after the region final. "If we execute offensively, there's no one that can stop us."
Churchill took a 3-1 lead early in the region final, but Quince Orchard scored five of the next six goals to build a 6-4 halftime advantage.
The Bulldogs scored five of the first six goals in the second half, taking a 9-7 lead when Dubick scored with 3:15 remaining.
Dubick finished with four goals and broke the state record of 241 career goals, held by 2014 St. Paul's graduate Mikey Wynne, according to laxrecords.com. "[It's] cool," Dubick said of breaking the record. "Doesn't compare to [winning the region title], though."
Dubick now holds career records for goals scored, assists and points. He completed the trifecta despite a back injury he suffered against Whitman in the semifinals on May 11.
"It just makes me want to go that much harder," Altobello said of Dubick playing through pain, "because you know that you're not hurt, so you don't have any excuses."
Altobello, senior midfielder Marshall Rhodes and freshman midfielder Reed Moshyedi each scored two goals against Quince Orchard.
"This team's got tremendous resolve," Churchill head coach Jeff Fritz said after the region final. "They've been working their tails off all year. We didn't play particularly well either of the last two nights ... but we got it done."
Can playing double overtime games against Whitman and Quince Orchard help Churchill in the state playoffs?
"We haven't been battle tested real well throughout the season," said Fritz, who is in his 22nd season coaching at Churchill. "We had two or three tight games and then these two ... [have] definitely prepared us for a final four run. We know anything can happen. Good or bad, we're ready to bounce back from anything. We'll be able to handle that adversity, handle any situation and have faith in ourselves we can get the job done."
With the win over Quince Orchard and the victory against Dulaney, Churchill's record improved to 17­1. Now the Bulldogs will try to become the first Montgomery County lacrosse team to win a state championship.
"I feel," Fritz said, "like this is the best team we've ever had."