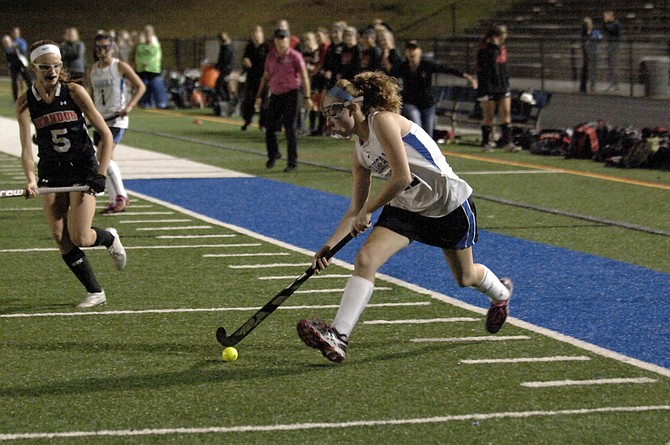 The Oct. 29 field hockey game between Fairfax and Herndon was everything a playoff game should be. The game was high-paced, low-scoring and an overall battle. Both goalies buckled down and helped their teams get through the game. After trading goals in regulation and two scoreless overtime periods, the game went to 1v1s. Ultimately, Fairfax would pull ahead on a controversial call. The Rebels would go on to win the game 2-1 to advance to the 6A North region semifinals.
Fairfax (15-4-1), the Conference 6 champion, will travel to face Conference 7 champ T.C. Williams (18-1) tonight at 7 p.m. at Minnie Howard in Alexandria.
"You hate for [the game] to come down to something like strokes," Fairfax head coach Amber Beaudoin said.
Fairfax was able to score 18 minutes into the first half, on a goal from junior forward Emily Deivert, after dominating the start. In the second half, Herndon came out strong and was able to equalize just over 8 minutes in on a goal from junior forward Kristen Caron.
"I thought that we played really well in the first half and really well in the overtimes," Beaudoin said. "The last couple of games we've been able to score in the open field, they've been making connections."
While Fairfax dominated the first half, Herndon was not going to go down without a fight. The Hornets came out in the second half really pressing for the equalizer.
"Well, I felt like we were the better team or that the teams were even," Herndon head coach Mary Miller said, "so you don't want to give the other team the momentum and we let them bring it to us. The girls know that if we take the momentum to them, we are in a much better place and we have a better chance to win."
Fairfax was able to convert twice in the one-v-ones to send the Rebels on to the next round.
"That's where you want to be at the end of October, when you're really peaking," Beaudoin said. "I think this team constantly surprises me and it's great to see that they are finally making those connections."
Herndon ended the year with a 14-6 record and finished runner-up in Conference 5.