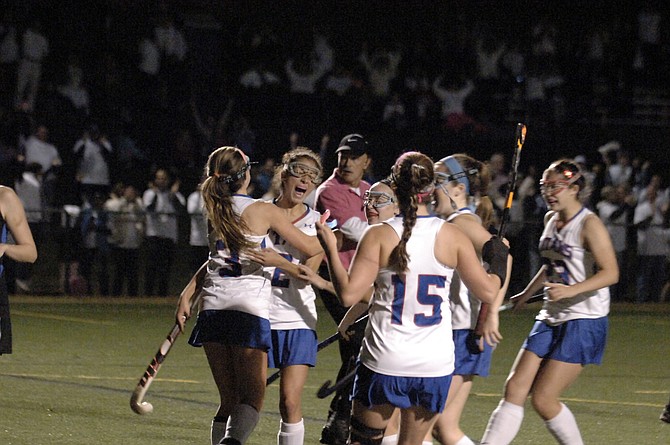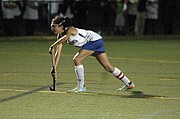 It started as a pass with the hope that a teammate would score via deflection. As it turned out, T.C. Williams senior Philomena Fitzgerald didn't need any help finding the back of the cage.
Fitzgerald received a corner insertion near the top of the circle in the second half before blasting a pass-turned-shot past the Fairfax goalkeeper.
Fitzgerald's goal proved to be the difference as the T.C. Williams field hockey team defeated defending region champion Fairfax 1-0 during the 6A North region tournament semifinals on Tuesday night at Minnie Howard.
The Titans secured a state tournament berth and will face Westfield in the region championship game at 7 p.m. on Thursday, Nov. 5 at Westfield High School.
After a scoreless first half, Fitzgerald capitalized on a corner, scoring with 20:21 remaining in the contest.
Senior Alex Milliken inserted the corner before moving over to the near post. Fitzgerald sent the ball from the top of the circle, sneaking it inside the near post for a goal.
"I was actually looking to pass near post and hopefully someone would deflect it in," Fitzgerald said. "... I was like, 'Wait, was that me?' because I thought Alex might have hit it in. And then when everyone looked to me, I was just like, 'Oh, my pass is a shot and now it's a goal! I'll take it! I'll take it!'"
T.C. Williams head coach William Heresniak said the corner didn't play out as designed, but Fitzgerald, the Conference 7 Player of the Year, made something happen.
"The reason we have Phil receive on corners is she's a great QB," Heresniak said. "When something's covered up in regards to an option not being there for us, she puts the ball where it needs to be. We kind of just stayed with the possession of the ball and she just put it in."
After taking the lead, T.C. Williams survived a late push from Fairfax that included three corners in the final two minutes.
"They just didn't play their 'A' game and they really decided to only play the last 9 minutes of the game," Fairfax head coach Amber Beaudoin said about her team. "I think if they had played with that kind of fire and intensity throughout the game, it would have been a different story. You saw them turn it up and then the other team was just backpedaling and reeling from the pressure — and some of that was me. I should have changed the scheme sooner than I did. I waited too long and that's on me. But some of it's on [the players]. They need to know when to ratchet up the intensity."
Beaudoin said T.C. Williams fans had an impact on the game.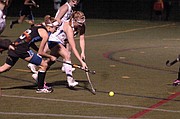 "It's a tough fence-line to play here and I warned my kids: it's a tough place to play when their community is behind a team because they've never been some place," Beaudoin said. "It's a tough thing to surmount. I thought that [Fairfax players] were able to do it to some extent, but it was difficult. They came off the field at halftime really saying. 'I can't hear; it's too loud. [We] can't hear each other; it's too loud.' I really think their fans were a real 12th man and a factor in today's game."
T.C. Williams goalkeeper Sarah Leckman finished with five saves.
Heresniak praised the performance of sophomore defender Isabella Diz, a first-team all-conference selection.
Fairfax ended its season with a 15-5-1 record. The Rebels won their seventh consecutive Liberty District/Conference 6 championship along the way.
T.C. Williams, which recently won its first conference/district title since 1995, improved its record to 21-1 and extended its win streak to 17 games.
A victory over Westfield on Thursday would result in the program's first region championship.
"If we can get a win on Thursday, we'd be making history," Heresniak said. "It's a great group of kids: there's no selfishness, there's no egos, it's just a bunch of kids who have jelled together who are playing as a team and everybody understands what their job is and we're just playing hockey."
Westfield defeated Woodson 4-0 in Tuesday's other region semifinal contest. The Bulldogs are 19-2, won the Conference 5 championship and have not lost to a team from the 6A North region.
Westfield is also a perennial power, having earned its fourth state tournament berth in the last five seasons. The Bulldogs won the 6A state championship in 2013.
"That's the past," Heresniak said. "I'm looking at Thursday. They're going to be looking at Thursday."
Will the Titans be intimidated by Westfield?
"I think with everything that we've done, we're past that," Heresniak said. "I think we're starting to understand who we are and when we just work together and we fight, good things happen."