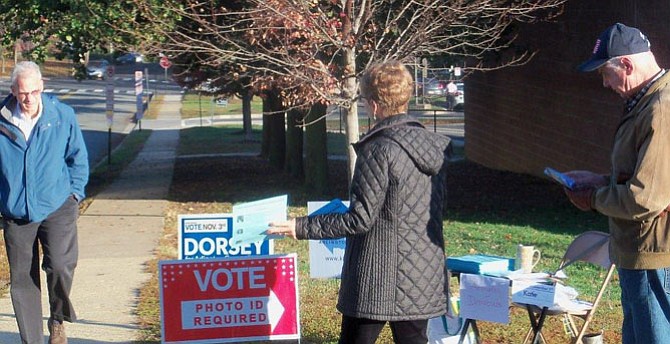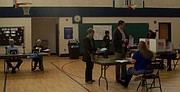 "It is important that every vote counts."

— Megan Hill
"Surprising" is the way Betty Adelman described the absence of representatives from other than the Democratic Party. Signs bracketing the driveway entrance into Arlington's Nottingham Elementary School last week urged attention only for Dorsey and Cristol, both seeking a seat on the County Board. John Becker, Adelman's Democrat partner-greeter, saw a partial explanation in the fact that 2015 is "an off-year election."
A glance at the ballot explained more. All five candidates for re-election to the Constitutional offices — Clerk of Court Ferguson, Commissioner of Revenue Morroy, Sheriff Arthur, Commonwealth's Attorney Stamos and Treasurer de la Pava — were unopposed, and all were Democrats. The only contested office in this precinct with candidates identified by party was state delegate, where Democrat Patrick Hope facing Independent Janet Murphy.
Those standing for vacancies to the County Board and the School Board appeared with no party designation, although "endorsements" by both major parties are common knowledge. Dorsey and Cristol alone made the effort at the Ohio Street driveway.
"It is important that every vote counts," said Megan Hill, chief of Precinct #37, with a dozen or so years under her belt as an election official. Those words were her way of explaining why she remains involved with county elections. After the morning rush of voters on their ways to work, Hill was confident that the usual level of participation, 60 percent of registered voters in the precinct, would be achieved once more, off-year or no. This neighborhood takes voting "very seriously," she added.
"It is important to 'do your thing' for the right person running for office, not just voting for him or her." Thus, Bob Dunphy explained away his reason for standing outside the polling place since 7 a.m. Karen Menichelli, who arrived an hour earlier than that, stated the effort is important for every election, and more so when a low turn-out is expected.
With unofficial results tallied, Democrats scored a clean sweep. Each unopposed Constitutional officer drew over 97 percent of votes cast. Both the delegate candidate and School Board-endorsee registered 78 percent of the votes. As for the County Board seats, Dorsey and Cristol garnered 70 percent of the total cast votes.
That leaves only the "turn-out" percentage of eligible voters. The percentage of Nottingham neighbors matched the county-wide figure almost exactly at 29 percent.