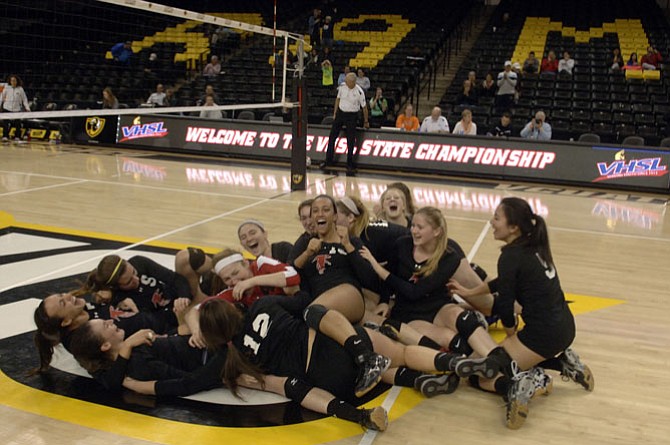 The Madison volleyball team's 2014 season ended on the Siegel Center court with an agonizing five-set loss to First Colonial in the 6A state final.
One year later, the Warhawks were on the winning end of a dramatic five-set match on the state championship stage and ended their 2015 campaign with a joyous pile on the Siegel Center hardwood.
After dropping two of the first three sets, Madison battled back to defeat Conference 6 rival Langley 3-2 (20-25, 25-17, 22-25, 25-17, 15-8) in the VHSL 6A state final on Nov. 20 at VCU in Richmond.
Madison captured the program's first state championship by winning the first all-Fairfax County big-school volleyball state final in VHSL history. It was the fifth meeting of the season between the Warhawks and the Saxons, including the third with a championship on the line. Madison defeated Langley in the Conference 6 tournament final, and the Saxons knocked off the Warhawks in the 6A North region championship match.
The teams had split their first four meetings.
"This is great, especially with a daughter that's a senior (setter Kendal Hall)," Madison head coach Carrie Hall said. "We couldn't ask for anything better than this. I know that we were all sad last year, but this year, nothing was sweeter. There's nothing sweeter than winning against your neighborhood rival."
Last season, Madison had seven match points against First Colonial in the state final, but couldn't secure the title. The Patriots eventually pulled out an epic fifth set, 25-23, and handed the Warhawks their only loss of the season.
ON FRIDAY, Madison never trailed in the fifth set. The Warhawks scored three straight to take a 4-1 lead and scored five of the final six points to secure the victory.
"That fifth set felt like a dream," said Madison senior Natale Zanellato, who tallied four kills in the deciding set. "We pulled ahead, but ... we have played them before and we knew they could come back. Even when it was 14-8, we were like, 'Do not give up a single point.'"
Zanellato said last year's state final loss didn't cross her mind Friday, but the experience of having played at the Siegel Center helped the Warhawks.
"We played here last year and a lot of the stars have played here and been in this gym," she said. "We all know what it's like. Last year was really big and scary and a different atmosphere and this year it felt comfortable."
Madison senior Jaynie Carter said she started to get emotional before the match had ended.
"I've never cried tears of happiness before," Carter said. "But once I saw the score and we were [at] 13 [points and] we were [at] 14, I just started to tear up already because it's just so memorable. It's a special moment with a team like that ­­­ just the bond that you have. To have this moment, to cherish it with one another, it's kind of once in a lifetime."
While many Madison players contributed to the victory, the Warhawks' senior trio of Kendal Hall, Zanellato and Carter made clutch play after clutch play down the stretch.
Hall, a senior setter who will play for George Mason University next season, injured her left ankle in the first set, which initially caused her to stop using her hard-to-handle jump serve. Hall went back to the serve later in the match and had success, including a fifth-set ace that gave Madison a 3-1 lead.
Hall finished with five aces and 47 assists.
"I thought she did a fantastic job tonight," Carrie Hall said. "She got taped right after that in-between sets. ... I imagine she'll be a little sore tomorrow."
Zanellato finished with a team-high 19 kills, and Carter had 18.
"They really came up with some big time plays," Carrie Hall said about the senior trio. "They are all about one point [at a time and] never giving up. Motivators ­­­ they just move on from point to point, they don't harbor anything. They've been great role models to my younger players. They did a fantastic job."
Junior Emily Calhoun had 11 kills for Madison.
After winning two of the first three sets, Langley scored four straight points in the fourth set to pull within two at 16-14. But after a timeout, Madison pulled away with a 5-0 run and won the fourth set, 25-17.
Langley sophomore setter Elena Shklyar finished with 16 kills, 18 assists, seven blocks, four digs and two aces. Senior Jess Donaldson, who will play at Lehigh University next year, totaled 13 kills and 15 digs. Senior Kristian Stanford had 10 kills and 16 digs.
LANGLEY finished the season with a 25-6 record and the 6A North region title. Madison ended the year with a 23-6 record and took home Conference 6 and 6A state championships.
"It's unbelievable," Kendal Hall said. "I can't even process it right now."