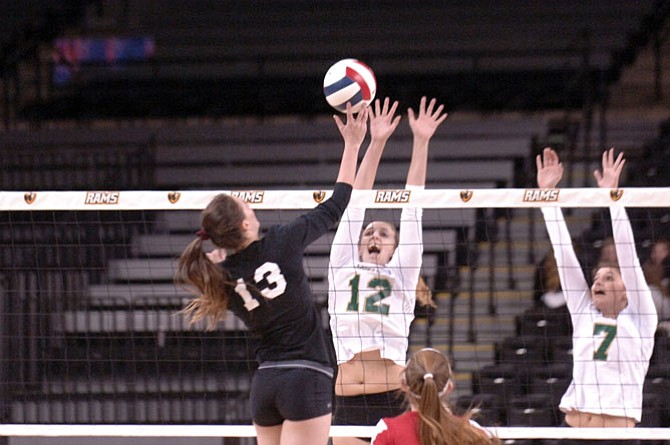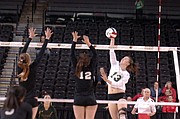 For senior outside hitter Jess Donaldson, Friday's 6A state championship match at VCU's Siegel Center included a change in roles --- and outcome --- from her experience in the 2013 state final.
For sophomore setter Elena Shklyar and other Saxons who will continue their high school careers next season, Friday's state final was a learning experience.
For the Langley volleyball team, Friday's match against Conference 6 rival Madison was a tough way to end to an otherwise successful season.
After dropping two of the first three sets, Madison battled back to defeat Langley 3-2 (20-25, 25-17, 22-25, 25-17, 15-8) in the VHSL 6A state final on Nov. 20 in Richmond.
Madison captured the program's first state championship by winning the first all-Fairfax County big-school volleyball state final in VHSL history. It was the fifth meeting of the season between the Warhawks and the Saxons, including the third with a championship on the line. Madison defeated Langley in the Conference 6 tournament final, and the Saxons knocked off the Warhawks in the 6A North region championship match.
The teams had split their first four meetings.
"I think that both teams started off the match a little on the edge due to all the nerves in the gym for this big game," Shklyar wrote in an email. "Once we got past those nerves, we got into a groove and that's when we were at our best. In the final two sets, we simply started making some unforced errors that we usually don't make and that was the difference in the game. If we kept our discipline from the first sets throughout the entire match, there could have been a different ending for us."
TWO YEARS AGO, Langley won the state championship with a sweep of First Colonial. Donaldson, an all­state performer as a sophomore on the Saxons' 2013 title team, finished with 13 kills and 15 digs on Friday, but fell short of her bid for a second state championship.
"It honestly just felt different," Donaldson wrote in an email. "My sophomore year, there were seniors and juniors to lean on when we struggled with something. This year, that job was up to me and other teammates like Kristian [Stanford] and Katie [Sissler] that had been to Siegel Center in past years. It's hard to play in a gym like that when you aren't used to it."
Donaldson will play at Lehigh University next season.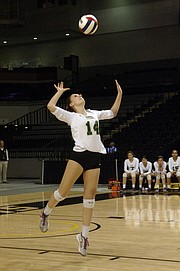 "I'm not sure I can express how much Jess has meant to this program," Langley head coach Susan Shifflett wrote in an email. "She is the perfect mix of competitor and genuineness. She works hard every day, pushes her teammates in such a positive manner, communicates with coaches and is just fun! She is just so easy to love."
Shklyar finished with 16 kills, 18 assists, seven blocks, four digs and two aces.
"Elena had a great match, played way above her sophomore level," Shifflett wrote. She is "so mature in the game. The next two years with her should be very competitive."
Senior outside hitter Stanford had 10 kills and 16 digs for the Saxons. Junior libero Sarah Maebius had 31 digs, and junior setter Lauren Pratte had 19 assists and eight digs.
FOR MADISON, senior setter Kendal Hall totaled five aces and 47 assists. Seniors Natale Zanellato and Jaynie Carter finished with 19 and 18 kills, respectively. Junior Emily Calhoun had 11 kills for Madison.
Langley finished the season with a 25-6 record and the 6A North region title. Madison ended the year with a 23-6 record and took home Conference 6 and 6A state championships.
"I was very proud [of] the players on the team this year," Donaldson wrote. "We played hard and it was an accomplishment to make it to the Siegel Center. At the beginning of the year, Coach Shifflett told the team that anything less than states would be a disappointment. I think it was disappointing that we didn't win because we have beaten them before and we can, but Friday night, it just wasn't there."
Shklyar said the loss can be a learning experience.
"I think that the experience of losing in that fifth set in such an important match really showed our team just how much harder we need to work for next year," she wrote. "Being so close but not quite getting what we came to accomplish definitely stung, but I have no doubt it will motivate us to work even harder next year."