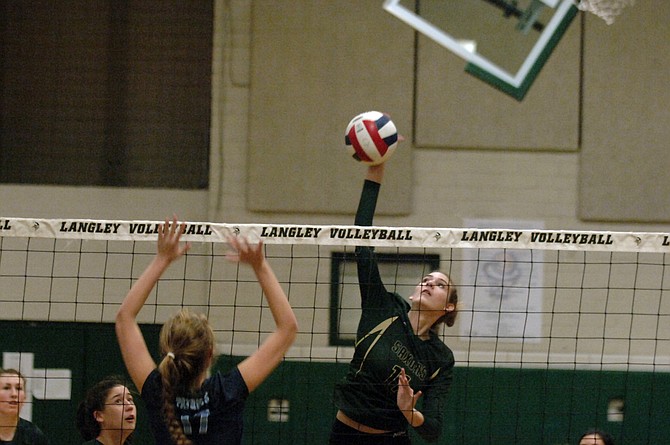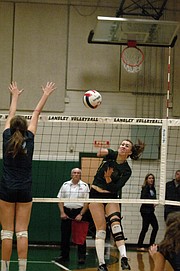 Kristian Stanford slammed a kill near the end line in the opening set, helping Langley build an early lead.
In the second set, Jess Donaldson fired a rocket that ricocheted off the hands of the First Colonial libero before hitting the ceiling and falling to the floor for a kill.
With the match coming to a close, Elena Shklyar's emphatic kill put the finishing touch on a Saxons sweep and led to those on the Langley bench spilling onto the court in celebration.
The Langley volleyball team is headed to the state final for the second time in three seasons after beating First Colonial 3-0 (25-17, 25-19, 25-20) on Tuesday night in the 6A state semifinals at Langley High School.
The Saxons, who won it all in 2013, will face Conference 6 rival Madison in the state championship match at 7 p.m. on Friday, Nov. 20 at VCU's Siegel Center in Richmond. Madison defeated Kellam 3-1 in Tuesday's other semifinal. It will be the first time two Fairfax County schools meet in the "big school" state volleyball final. The 2009 AAA state final between Loudoun Valley and South County was the last time two Northern Virginia schools advanced to the final.
Langley head coach Susan Shifflett said First Colonial was missing two starters due to injury. The Saxons made quick work of the Patriots with a balanced attack that included six players finishing with at least four kills. Donaldson led the way with 10.
Donaldson, a senior outside hitter who signed to play at Lehigh University, was an all-state performer as a sophomore when the Saxons swept First Colonial in the 2013 state final. She missed most of her junior season after suffering a torn ACL in her left knee and the Saxons were eliminated in the region quarterfinals. Now, Donaldson has the opportunity to end her high school career with a second state title.
"I think it just brings excitement back to me knowing that we can still get there," Donaldson said. "Last year was kind of a dull season for the team. This year, going back there puts confidence in the future teams to come and it's really exciting for the kids now. … Senior year for a lot of us: Kristian and I, Katie [Sissler] and Maddy [Baldwin] --- senior year going to the state championship is pretty exciting."
Stanford, Sissler, Shklyar and sophomore middle blocker Allison Franke each had five kills. Junior Raya Mufti had four kills.
Stanford was also a starter on the 2013 state championship team. She had four kills in Tuesday's second set.
"Kristian, in particular, was on tonight," Shifflett said. "That was good for her. … She was really on fire and hopefully she'll carry that into Friday."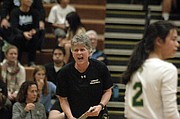 Sissler also had a strong performance for Langley. Shifflett moved Sissler from middle blocker to right side hitter late in the regular season, a move the coach said has paid off with an increase in kills.
"She has adapted really well to it," Shifflett said. "She never wanted to do it. She didn't want to play (right side) --- I know she was mad at me when I moved her --- but she did come and she said to me, 'I'll do whatever you want coach.' … She kept her head in it. She could have just ruined it for us. She could. She could have just went, 'I'm done, I don't want to do this' and had an attitude, but she stepped up and took responsibility for that spot and it's been wonderful."
Sissler said the Saxons enjoy playing in their home gym when they're hitting the ball well.
"Our ceiling is really low," she said. "We love when people shank it and it hits the ceiling and flies off. It just gives us a bunch of energy and then the crowd goes wild and we feed off of our crowd."
Langley (25-5) will face Madison (22-6) in Friday's 6A state championship match. The two teams have met four times this season, with each winning twice. Madison beat Langley 2-1 in a best-of-three match in Richmond on Sept. 4, and swept the Saxons in the Conference 6 championship match on Nov. 5. Langley swept Madison during the regular season on Oct. 27, and beat the Warhawks in four sets in the 6A North region final on Nov. 14.
Madison finished state runner-up last season, dropping a five-set thriller to First Colonial in the final. It was the Warhawks' only loss of the season.
After Langley's win over First Colonial on Tuesday, with the outcome of the Madison/Kellam match unknown, Stanford said the Saxons would enjoy facing the Warhawks in the championship match.
"We definitely would love to see our good friends Madison again," Stanford said. "… It's so fun because we both want it so bad. They never let up on us and we try not to ever let up on them, so it's a really fun game. We'd be really excited if we got to see them again in the state finals."
Shifflett said she had no preference.
"We took care of Madison," Shifflett said, "so we're happy to see them again or we'll face somebody new."