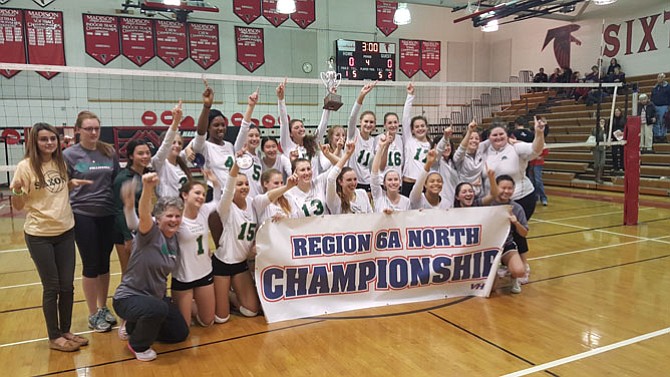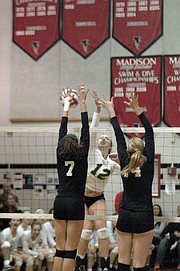 Saxons sophomore setter Elena Shklyar stood in the Langley High School gymnasium following an August practice and shared the team's lofty goals for the 2015 season, which included the desire to win multiple titles.
Langley's first shot at a title arrived Nov. 5, but the Saxons fell flat and were swept by Madison in the Conference 6 championship match. Nine days later, having already secured a state berth by beating Battlefield in the region semifinals, the Saxons had a second opportunity to win a championship and a chance for revenge against the Warhawks.
This time, the Langley volleyball team would leave with the first-place hardware.
The Saxons held off a late Warhawks rally in the fourth set to win 3-1 (25-17, 21-25, 25-23, 25-22) in the 6A North region championship match on Nov. 14 at Madison High School.
A kill by senior middle blocker Katie Sissler gave Langley match point at 24-18. Madison responded with four consecutive points to make things interesting before Saxons sophomore middle blocker Allison Franke provided the match-winning kill.
"We've been trying to do this all year and this has been our goal," Shklyar said. "Obviously, states is our next goal."
Langley will host 6A South runner-up First Colonial at 5:30 p.m. tonight in the 6A state semifinals.
How did the Saxons go from getting swept by Madison in the conference final to beating the Warhawks in four sets on Saturday?
"We had the right game plan in the conference (tournament), but we couldn't pass and ... they just weren't in it," Langley head coach Susan Shifflett said. "(We had) pretty much the same game plan tonight, but they were ready. You beat Oakton (in the region quarterfinals), you beat Battlefield (in the semifinals); they've been on a tear lately and they were ready."
OFFENSIVELY, Langley had a balanced attack, with four players producing at least eight kills. Sissler led the Saxons with 12 kills, and Shklyar, Franke and senior outside hitter Jess Donaldson each had eight.
Defensively, Langley's tall front row made life difficult for Madison hitters.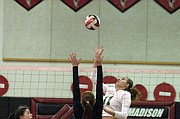 "They really improved on their blocking in just a week-and-a-half time and that's all them," Shifflett said. "... I didn't do anything different."
Franke finished with two solo blocks and five block assists. Senior outside hitter Kristian Stanford had two solo blocks, Shklyar had one solo block and five block assists, Sissler had one solo block and two block assists, and junior right side Raya Mufti had five block assists.
"When we get the block, it not only affects the front row, it affects the back row," Franke said. "For us, a lot of times the block will get us more excited than the hit just because we stopped them."
Donaldson was named MVP of the region tournament. Franke and Sissler were named to the all-tournament team.
Saturday's region championship was Langley's second in three years. After losing to Yorktown in the 2013 conference semifinals, the Saxons bounced back to win a region title and state championship.
The 2015 6A state championship match is scheduled for 7 p.m. on Friday, Nov. 20, at VCU's Siegel Center in Richmond.
"I love to win, so it's always good," Shifflett said after winning the region title. "... I want states, so I'm excited, but I'm done now. It's time for states."