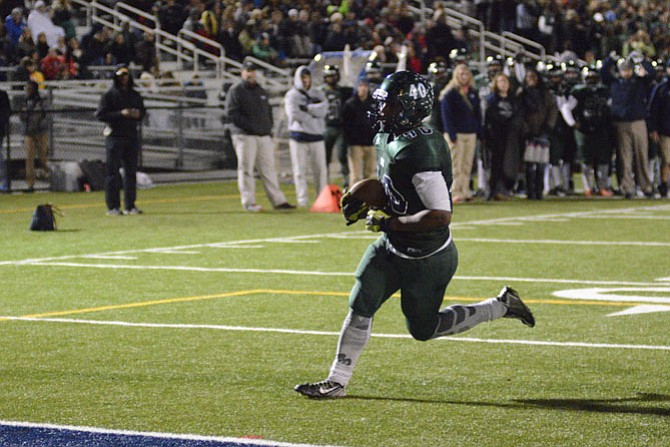 The South County football team remained undefeated and secured a spot in the 6A North region final four thanks in part to another big night from senior running back DeMarcus Ramsey.
Ramsey carried 30 times for 155 yards and two touchdowns, according to stats on maxpreps.com, helping the top­seed Stallions defeat No. 9 West Potomac 42-9 in the region quarterfinals on Nov. 20 at South County High School.
Ramsey has now rushed for 1,407 yards and 20 touchdowns in 12 games, while averaging 5.9 yards per carry. Friday's performance was the seventh time Ramsey surpassed the 100-yard mark this season, including a 228-yard, four-touchdown effort against T.C. Williams on Oct. 1. He rushed for 184 yards and four touchdowns against Annandale on Oct. 23, and went for 157 yards and two scores during the Stallions' 33-30 overtime victory against Lake Braddock on Nov. 6.
The 6-foot, 220-pound ball carrier will have a chance to add to his totals when South County (12-0) hosts No. 5-seed Robinson (9-3) in the region semifinals at 1:30 p.m. on Saturday, Nov. 28. The Rams are on a five-game win streak and have won seven of their last eight games. Robinson defeated No. 13 Chantilly 31-24 in the quarterfinals on Friday.
Advancing this far in the playoffs means South County will practice on Thanksgiving. Ramsey recently took part in a Q&A with The Connection, sharing his thoughts about the win over West Potomac, Saturday's matchup with Robinson, and his plans for the upcoming holiday.
Q: South County defeated West Potomac 42-9 last week in the quarterfinals. How do you feel your team played?
Ramsey: I definitely believe we played better. We also for the first time had less than 10 penalties, so I think if we can keep that up we'll be that much better.
Q: You had 30 carries last week against West Potomac. As a running back, how many carries do you feel you need in a game before you're performing at your highest level?
Ramsey: As a running back, I'm starting off at my highest level and finishing at my highest. So it can even be 1-5 carries; I'll make sure I give the best I've got.
Q: Next up for South County is a semifinal matchup with Robinson. What will it take to beat the Rams?
Ramsey: It'll take guts, it'll take pride, it'll take a Stallion Nation.
Q: Does being undefeated at this point in the season place additional pressure on the team?
Ramsey: Being undefeated at this point in the season does put additional pressure on the team because we know we have a lot of eyes on us just waiting to see us fail.
Q: The team will practice on Thanksgiving, correct? What time? How long?
Ramsey: We practice on Thanksgiving morning from 7-10 a.m., including meetings, so for about two hours.
Q: What are your plans for Thanksgiving Day?
Ramsey: My plans for Thanksgiving Day are to wake up early in the morning and get what I need to get done with my team, then enjoy the day with my family.
Q: What is your favorite Thanksgiving food?
Ramsey: My favorite Thanksgiving food would honestly be the gumbo my dad has been making since I was little because he's from Louisiana.
Q: With the football season still going, will you have to make sure you don't eat too much?
Ramsey: No, that's actually the least of my worries. I should be eating way much more than I've been doing, so that's something I've been making sure to work on with the fact that we've been doing so much running.