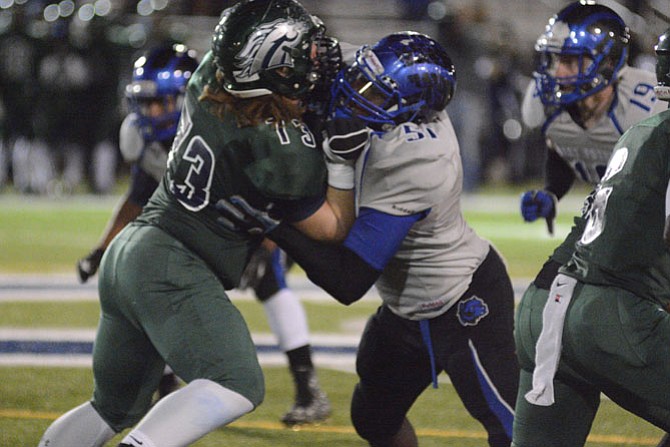 The West Potomac football program's best season since 2011 ended with a 42-9 loss at South County on Nov. 20 in the 6A North region quarterfinals.
The No. 9 seed Wolverines ended a three-year postseason victory drought with a 40-19 win over No. 8 West Springfield in the opening round on Nov. 13, but West Potomac became the latest team to fall short against top seed South County, which improved to 12-0.
The Wolverines, led by head coach Jeremiah Ross, ended the season with an 8-4 record, including 7-3 in the regular season. West Potomac lost twice to South County, once to No. 2 seed Lake Braddock, and once against No. 8 seed West Springfield.
On Friday, West Potomac sophomore running back Daiimon Cleveland carried 22 times for 125 yards against South County, according to stats on maxpreps.com. Cleveland, a second-team All-Conference 7 selection as an all-purpose offensive player, finished the season with 1,155 yards and 20 touchdowns on the ground, and 12 receptions for 132 yards and a score.
Cleveland, junior running back Justine Annan (second team all-conference), junior quarterback Mark Ellis (second team), and junior receivers Brandan Lisenby (second team) and Khalil Williams-Diggins (second team) should provide West Potomac with some offensive weapons next season.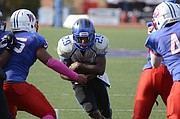 Annan rushed for 780 yards and 11 touchdowns this season. Ellis completed 51 percent of his passes for 2,242 yards and 22 touchdowns, with seven interceptions.
West Potomac's top skill-position loss will be CJ Burch, a first-team all-conference selection at receiver.
While the Wolverines will return some valuable skill-position players, West Potomac will need to replace four of five starting offensive lineman. The team will graduate left tackle Jordan Burgess (first team all-conference), left guard John Leon (second team), right guard Ozzie Opoku (second team) and right tackle Tay Diggs. The team will also graduate tight end Grant Monson, a second-team selection.
On defense, West Potomac will lose Monson, a first-team end, Horace Johnson, a first-team linebacker, lineman Diggs (second team), linebackers Kreshawn Dikes (second team) and Antoine Grice (second team all­around), and defensive back Okrah Opoku (second team).
Annan and Ozzie Opoku recently participated in a Q&A with The Gazette, discussing West Potomac's accomplishments this season and their plans for Thanksgiving.
Q: Your season ended last week with a 42­9 loss to South County in the region quarterfinals. What makes the Stallions such a strong team?
Annan: They come off the ball hard and play aggressively. They don't make very many mistakes and they execute well.
Opoku: They have strong leadership, and strong up front, and they go fast and execute on a high level.
Q: The region semifinals are South County/Robinson and Lake Braddock/Westfield. You faced two of those teams this season. Which teams do you think will win this weekend?
Annan: Those are going to be some very good games. Whoever wants it more will win.
Opoku: South County, because of their interior, and I think Westfield is going to pull this one.
Q: Which team do you think will win the region?
Annan: I think the team that executes the best and turns the ball over the least will win the region.
Opoku: South County.
Q: West Potomac went 7-3 during the regular season and won a playoff game. What are your thoughts about what the team accomplished this season?
Annan: I'm very proud of myself and my teammates. It was no easy feat to accomplish. Next year I hope we go even further and I think we earned the success we had.
Opoku: [We put] West Po back on the map, and showed the community West Po football is back and out coach is one of the best in the region.
Q: Justine, the program will return several talented players next season, including you, Daiimon Cleveland and quarterback Mark Ellis. How do you feel about West Potomac football in 2016?
Annan: Our whole team is very talented. I have a lot of faith in my guys and they have a lot of faith in me as well. 2016 should be a good year for us.
Q: Ozzie, what is your favorite memory from your high school career?
Opoku: Playing with De'Mornay Pierson-El and beating Briar Woods [this year] with my brother blocking the game winning field goal (Okrah Opoku).
Q: What are your plans for Thanksgiving day?
Annan: On Thanksgiving, I plan on eating a lot of Turkey, watching football and hopefully having a turkey bowl with some of my friends.
Opoku: Going to play 7on7 at Mount Vernon with my teammates and enjoying time with my family.
Q: What is your favorite Thanksgiving food?
Annan: My favorite Thanksgiving food is stuffing. I think it's very underrated. Everyone loves turkey but the stuffing is where it's at.
Opoku: Corn bread.
Q: Do you or your family participate in any sports-related Thanksgiving traditions?
Annan: Every year we watch the football games on Thanksgiving. It's just something we do every year.
Opoku: Playing 7on7 at Mount Vernon every Thanksgiving.