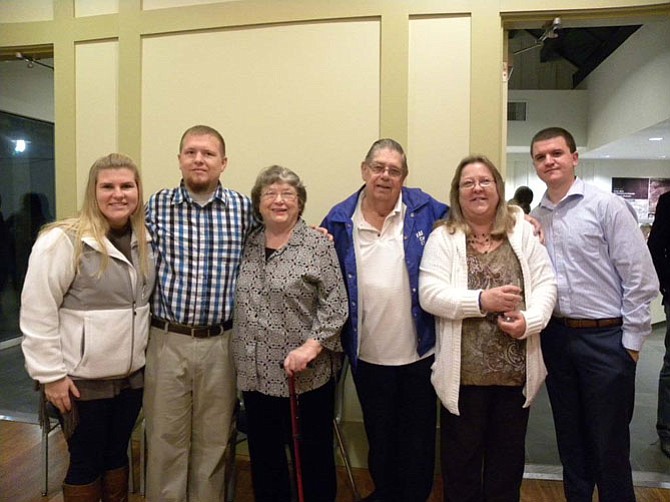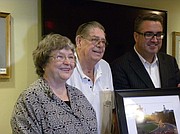 Long-time Fairfax business Camper's Trophies and Awards is the recipient of the inaugural Small Business of the Year Award, bestowed by the City of Fairfax's Economic Development Office. The award honors local business that succeeds and makes a contribution to the Fairfax community.
At The Civil War Interpretive Center at Historic Blenheim, Mayor Scott Silverthorne presented the award on Friday, Nov. 20 to Eddie Camper, Sr., who he called a "living legend in the City of Fairfax." Camper was joined by family members, small business owners and members of the city council.
Camper's Trophies and Awards is a family-run business that has been in Fairfax for more than 40 years. "The City is better off because of what he's done and the small business he runs," said Silverthorne.
"This particular business has participated in almost every civic association, little leagues...really given back and contributed to the city," said Economic Development director Nicole Smith.
"I was honored. I've been doing this since '68, and I have always put my money back into the community. I've never ripped anybody of, that I know of. I treat everybody right," said founder and owner Camper.
Camper said the weirdest trophy he ever made was one in the shape of a toilet seat. It was commissioned by a man to hang in his office wall. "When you flip up the lid, there's a picture of somebody. We've had a lot of weird trophies but that's about the weirdest," he said.
Camper's wife, Mary, recalled the business' beginnings right next to the old Fairfax City Theater, now a car dealership. "We started with nothing and my husband built it up and built it up. And now we have a nice business and we got the whole family working here." But, she said, Fairfax is changing.
Silverthorne also acknowledged the small business owners attending the ceremony, "We appreciate what you do for the city," citing their contributions to making Fairfax the strongest local economy in the state of Virginia. "A lot of that is because of you," he said.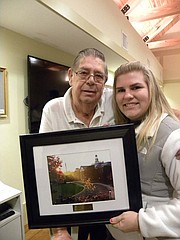 Camper started the business after he was hit by a steamroller. "I was at the wrong place at the wrong time," he said. "I couldn't work, I was in a wheelchair." His son Eddie Jr., did the work and Camper would just answer the phone. Eddie, Jr. died two and a half years ago. They started with an engraver, no bigger than 12 x 12 inches. "You'd put the font in and unscrew 26 little screws to put a piece of font in there."
He was a construction superintendent before starting the business. After the accident, his chance of survival was zero, he said. "I wasn't supposed to live. But once they found out I was going to live they said 'we're going to have to gear him for a wheelchair cause he's never going to walk again,'"
He proved his doctors wrong. He lived and he walked. With the help of crutches and braces, he has been walking for more than 40 years.
"The good Lord gave me 40 years of living that I wasn't supposed to have. So, whatever happens to me now, I can't complain."