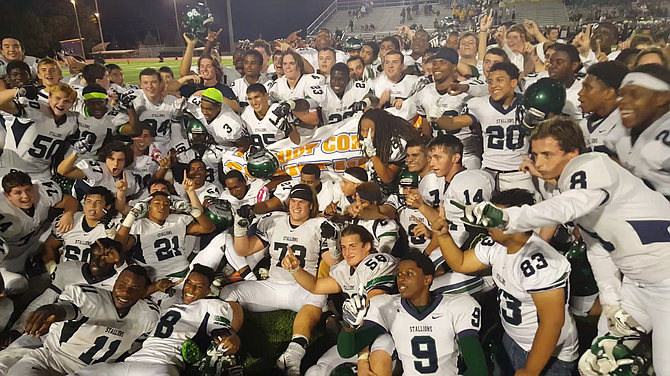 With South County trailing 27-7 and facing fourth-and-goal from the 1-yard line in the second quarter of Friday's monumental matchup with Lake Braddock, Stallions quarterback DeAndre Clayton took the snap and handed the ball to running back DeMarcus Ramsey.
Ramsey pushed forward, but the Lake Braddock defense held the 215-pound back short of the end zone. But while it appeared the Bruins had come up with a goal-line stand, an observant Clayton realized the play was far from over.
Unbeknownst to many, Ramsey had fumbled during the play and the ball was lying on the turf. Clayton, who was behind the action, stepped forward, scooped up the loose pigskin and ran around the left end for a touchdown.
"I gave [Ramsey] the ball … and I didn't hear a whistle," Clayton said. "… I just looked around and saw the ball on the ground. Everybody else stopped, so I picked it up and ran to the side. … Nobody was paying attention to it."
Clayton didn't give up on the play, which resulted in a touchdown. Despite facing a 20-point deficit on the road, the Stallions didn't give up in the face of adversity, which resulted in a championship.
In a matchup of the last two unbeaten teams in the 6A north region, the South County defense held Lake Braddock scoreless in the second half and created a pair of late turnovers to force overtime. After holding the Bruins to a field goal, Ramsey's 10-yard touchdown run lifted the Stallions to a 33-30 victory at Lake Braddock Secondary School.
South County's first victory over Lake Braddock since 2011 earned the Stallions an undefeated regular season, an outright Conference 7 championship and the No. 1 seed in the region playoffs.
"That's what they do every day --- they fight through adversity every day," South County head coach Gerry Pannoni said. "We kind of push them to that brink and they responded and did a great, great job."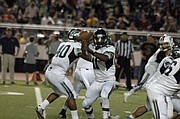 South County won a share of the conference title last season, along with Lake Braddock and West Springfield. This is the first season since 2008 that the Bruins didn't capture at least a share of the Conference 7/Patriot District championship.
The South County defense offered little resistance in the first half as Lake Braddock built a 27-14 halftime lead. The Bruins scored on a 1-yard run by Lamont Atkins, a 44-yard pass from Kyle Edwards to David Fofi, and a 73-yard scamper by Ibrahim Mansaray. The South County special teams surrendered a 92-yard kickoff return for a touchdown by Lake Braddock's Peyton Scott.
The second half, however, was a different story. Pannoni said the Stallions (10-0) became more aggressive on defense, a move that paid off as Lake Braddock (9-1) failed to score during the third and fourth quarters. Meanwhile, Clayton connected with Dillon Spalding for a 30-yard touchdown on fourth down with 6:17 remaining in the third. Spalding's right hand was tangled with a Lake Braddock defender, so the South County receiver reached out with his left hand and made the catch, cutting the Bruins' lead to 27-20.
"I practice that a lot," Spalding said.
After forcing a Lake Braddock punt, South County drove 80 yards in 13 plays, tying the score at 27 on a 6-yard touchdown run by Clayton with 10:43 remaining in the fourth quarter.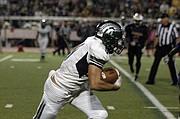 Lake Braddock would have two more possessions in regulation and each time the Bruins drove into South County territory. Each time, the drive ended with a turnover.
With 8:25 remaining, South County recovered a Lake Braddock fumble at the Stallions 20-yard line, thwarting a Bruins scoring opportunity.
With less than 1 minute remaining and Lake Braddock driving for a potential game-winning field goal attempt, South County defensive back Christian Massie intercepted a pass at the Stallions 12-yard line.
"They dug deep," Pannoni said about the South County defense. "They could have caved at any point --- they could have really caved, because [the Bruins] were banging us pretty good. But they stuck in there, they stayed with it, they stayed with the plan and it worked."
Lake Braddock got the first possession in overtime. After incomplete passes on first and second down, senior quarterback Edwards scrambled to his left on third down. South County linebacker Kevin Allen and lineman Saif Khan combined to knock Edwards out of bounds at the 6-yard line, leading to a 25-yard field goal by Bruins kicker Nick Bruhn on fourth down.
South County's possession lasted just one play as Ramsey carried the ball 10 yards into the end zone for the game-winner, which led to the Stallion sideline rushing onto the field in celebration.
"It's something I definitely wanted," Ramsey said. "During the second half, I was just sitting there thinking to myself: 'What can I do to make a difference on this team?' and I just knew I had to bring it."
Ramsay carried the ball 30 times for 157 yards and two touchdowns. He also caught three passes for 44 yards.
"DeMarcus is a horse," Pannoni said. "You've got to ride that horse."
Clayton completed 16 of 25 passes for 233 yards, with one touchdown and one interception. He carried 21 times for 88 yards and a score.
Spalding had seven receptions for 93 yards and a touchdown.
Lake Braddock running back Mansaray carried 10 times for 102 yards and a touchdown. Edwards completed 9 of 17 passes for 157 yards, with one touchdown and one interception.
The playoffs begin next week.
"This is a big boost," Pannoni said. "… [We] win this game, feel great about ourselves going into the playoffs and that's huge."