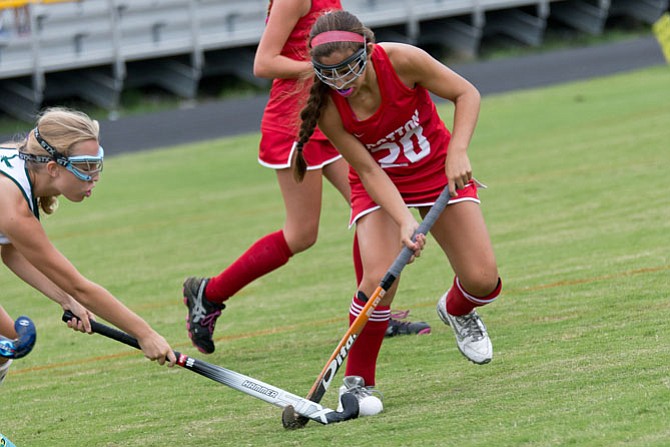 The Wootton field hockey team has advanced to the region championship game or beyond in each of the last three seasons. This year, if the Patriots are going to make another deep playoff run, they will have to do so without graduated goal-scoring threat Julia Lee.
Lee scored more than 20 goals during her senior season, helping Wootton reach the 2014 region final, where the Patriots lost in overtime to Bethesda-Chevy Chase and finished with a 15-2 record.
"We will certainly miss her, for her scoring, of course, but more for the way she intuitively understood how to use and create new space," head coach Kearney Blandamer wrote in an email.
Fortunately for Wootton, the Patriots have plenty of talent coming back.
Wootton returns 10 seniors for the 2015 season, including midfielder Marisa Morakis (Bucknell) and defender Rachel Maizel (JMU), who are each committed to play Division I field hockey.
"They are talented and athletic players with great vision," Blandamer wrote. "They will lead us this year."
Forward Lacey Rubin "plays a scrappy, skilled wing who somehow manages to penetrate and dish the ball, as well as to force fouls and draw corners," Blandamer wrote.
Junior midfielder Ali Silver, senior defender Nicole Papadopoulos, senior goalkeeper Athena Sardelis, senior midfielder Emily Krotman, senior forward Alexa Schoenfeld and senior defender Shelbie Fishman will also be key contributors.
Many of the team's athletes play club field hockey, Blandamer wrote, and the Patriots focused on team bonding in the offseason.
"I really loved getting to know them off of the playing field," Blandamer wrote. "I think it really had a lot to do with forming the team chemistry that we are enjoying this season. I have learned over the years that talent doesn't matter a bit if the girls don't like each other. Likewise, a team of average athletes consistently will exceed their abilities if they love each other like family and are constantly having fun together. That's the goal for us this year."
Blandamer has led Wootton to a 51-9-1 record during her four seasons as head coach. After an 8-5 finish in 2011, the Patriots went on a successful three-year run that included a region championship and state runner-up finish in 2013.
This year, Wootton opens the regular season on the road against Rockville at 3:45 p.m. on Friday, Sept. 4.
"I want us to get better and smarter every day," Blandamer wrote. "I want us to have fun on and off the field together, to take calculated risks and test our limits in practices and games. I want our best effort every game. I want us to embrace setbacks in a liberating way that allows us to critique our play and get better without letting things go to our heart. It's very important to us that we learn how to manage tough times/moments in games and trust that we can come out of them OK. I expect very good things will come if we can do those things."