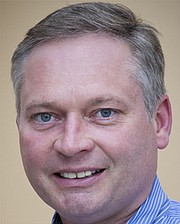 Independent
Town of residence: Arlington, Virginia; Maywood Community
Age: 53
Family: Wife, Kris; Sons, Patrick & Riley
Education: BA, History and Political Science, West Virginia Wesleyan College; JD, Washington College of Law, American University
Office sought: Arlington County Board
Offices held, dates: President, Maywood Community Association, 2002-2006; President, Arlington County Civic Federation (ACCF), 2013-2015.
Occupation and relevant experience: Communications Law Attorney/Consultant: President and CEO, 3 Birches Lane, LLC; Counsel, Alcatel-Lucent; Associate General Counsel United States Telecom Association; Senior Associate, Booz, Allen & Hamilton; Counsel, Federal Communications Commission
Community involvement: I am a 21 year resident of Arlington County and the former President of the Maywood Community Association, a delegate to the ACCF, and a former County Board appointed member of the Arlington Fiscal Affairs Advisory Commission (FAAC). I was also a member of the ACCF Executive Committee and was subsequently elected President, where I just finished my two year term in June of 2015. I am an attorney, homeowner, Arlington small business owner, a husband and the father of two children who have attended Arlington County schools. In addition, I was a former coach to my children who participated in Arlington youth sports programs.
Website: www.mike4countyboard.com
Email address: mike4countyboard@gmail.com
Twitter handle: Mike McMenamin@mike4countybd
Name up to three favorite endorsements: Arlington Sun Gazette, County Board Member John Vihstadt
QUESTIONS:
What is one issue that defines your call to serve, why does it matter, and how will you tackle it?
Arlington can do better. Like my neighbors, I have been frustrated with our county leaders, who have become increasingly disengaged from our neighborhoods. My vision for change is that we begin to listen to the community and its needs first, rather than last after a decision has been made by the county, e.g. Fire Station Number 8. I will engage the community and understand their needs when county projects are being contemplated that will affect the community. In sum, I want to put the Arlington Way back together.
What distinguishes you from your opponent(s) and why should voters choose you?
I will bring responsive leadership to the Arlington County Board. I want to renew the strength of community, reengage citizens, and work with civic leaders to ensure that adequate funding exists for schools, parks, road paving, sidewalks, fixing and replacing our aging infrastructure and finding cost effective transportation solutions.
I believe that my tenure as President of ACCF and my neighborhood association, as well as my time on FAAC, gives me the experience to be an effective County Board member on day one. I offer a proven record of working to engage neighborhoods and to build consensus around pressing county issues.
What do you see as the top challenge in governing Arlington in the coming year?
Revenue, so that we can continue to fund schools, parks, affordable housing and infrastructure. We need to get the commercial office vacancy rate down and get business into the county, so that the financial impact does not disproportionally fall to the homeowner to build schools and maintain our infrastructure.