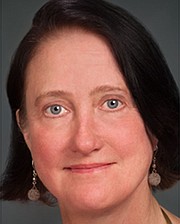 Independent
Residence: Arlington
Family: Unmarried
Education: Ph.D.
Office sought: County Board
Occupation and relevant experience: Ph.D., Political Science, Temple University, 1993; Congressional Fellow, 100th Congress
Community involvement: Long time civic activist, Treasurer Arlington Coalition for Sensible Transportation
Website: www.AudreyClement.com

Email address: Info@AudreyClement.org
Twitter handle: Audrey_Clement
QUESTIONS:
What is one issue that defines your call to serve, why does it matter, and how will you tackle it?
I want to reform Arlington County government to make it more accountable to the voters. Government reform is needed right now, because the county faces several crises that the current Board has failed to adequately address, among them:
a 21% office vacancy rate, which is at an all time high;
a school enrollment crisis with 3,000 students housed in trailers and a School Board bogged down in a fight with community groups over the siting of a new elementary school in South Arlington;
the loss of 13,500 affordable units over the past 15 years which the County proposes to address with a totally unrealistic plan to build more than 15,000 committed affordable units for which it has provided no cost estimate.
What distinguishes you from your opponent(s) and why should voters choose you?
The other candidates acknowledge the crisis in county government, but for the most part they propose no specific solutions. Instead they have resorted to pious platitudes and promises to do better. I have specific solutions.
To deal with the vacancy rate I propose to reduce the BPOL tax on small business, to streamline the business permitting process, and to consult with the Governor to get a high profile tenant for the trophy office building at Rosslyn Metro, which has no tenant two years after construction.
To deal with the enrollment crisis, I plan to increase secondary class size by one student per class, to bring Arlington's student/teacher ratio in line with neighboring jurisdictions.
I also support a proposal to create a joint School Board/County Board committee with representatives of both civic organizations and PTAs to site new schools.
To deal with the loss of affordable housing I plan to buy up existing market rate units and renovate them at a much lower cost to the County than constructing new units. I will also promote a housing authority that will consolidate the County's housing programs under one umbrella agency to provide economies of scale.
What do you see as the top challenge in governing Arlington in the coming year?
The top challenge is reducing the commercial vacancy rate, which has been spurred by BRAC, sequester, higher taxes, and a byzantine permitting process, and has resulted in the exodus of major government tenants from the County, including NSF, Fish and Wildlife Service, and TSA.