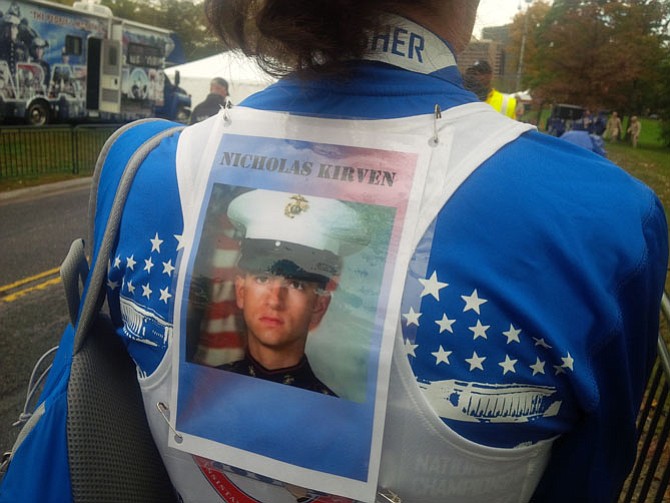 See more Marine Corps Marathon photos on Facebook.
It was a cold and stormy night in 2013 when Stan and Melinda Crais were told that their son Jonathan would not survive the hours following a car crash that nearly took his life. But after 72 days, Jonathan emerged from a coma and began the slow process of learning to talk and walk again. On Oct. 25, 2015, Jonathan Crais joined 30,000 other participants at the 40th Marine Corps Marathon in Arlington.
"One day I hope to walk without assistance," said Crais, now of Dahlonega, Ga., where he lives with his parents. Crais teamed up with Thomas Odom, also of Dahlonega, who ran the race pushing Crais in a wheelchair. At the finish, Odom lifted Crais so that he could experience the feeling of stepping across the finish line on his own. The pair finished with a time of 3:18:39.
"Jon kept me laughing the entire way," said Odom, who is a competitive triathlete. "This has been a great experience for both of us."
The 40th anniversary event was won by U.S. Army Lt. Trevor Lafontaine, who broke the tape with a time of 2:24:25. Lafontaine, of Cornwall, N.Y., is a member of the U.S. Army Running Team.
"It is awesome to be the Marine Corps Marathon Champion," said Lafontaine, 22, who finished ahead of Mexican runner Oscar Mateo Santos. Santos, 32, completed the 26.2 mile course in 2:26:08. Brian Flynn, 32, of Rockingham, Va., claimed third in 2:26:54.
Women runners were led by Jenny Mendez Suanca, 35, of Costa Rica, who captured her win in 2:45:56. Marine Capt. Christine Taranto, 30, of Monterey, Ca., placed second completing the 26.2 mile course in 2:53:30, while Maria Elena Jimenez, 32, of Mexico enjoyed a third-place finish at 2:55:35.
Participating in the MCM 10K were Pride Belle and her mother Beth Belle of Reston.
"We are running in memory of my brother, Lance Corporal Nicholas Kirven," said Pride Belle, who ran the race seven and a half months into her pregnancy as part of the T.A.P.S. team. "He was killed in combat in Afghanistan in 2005."
Jack Dasilva of Arlington, 30, took top honors in the MCM 10K with a time of 34:01, just six seconds before Daniel Comite, 26, of Hilton Head Island, S.C. Comite finished in 34:07 — only one second before Derek Lactaoen, 26, of Seattle, who took third place in 34:08.
Gov. Terry McAuliffe, whose father was a veteran of World War II and son is serving in the Marines, was on hand to signal the start of the hand cycle and wheelchair portion of the marathon.
"I have run this race three times," McAuliffe told the runners lined up at the start. "It's the best marathon in the world to run. Be swift, be safe and most of all have a lot of fun."
The MCM included 83 hand cycle and wheelchair participants including Anthony Serra, 41, of Boern, Texas, who won the division in 2:32:38 and Tammy Landeen, 38, of Milton, Fla., who led female participants at 1:58:01. Landeen also claimed the third-fastest finish among women hand cycle participants in MCM history.
Also a tradition within the Marine Corps Marathon is the Armed Forces Challenge, which includes elite runners from the Army, Navy, Air Force and Marine Corps Running Teams. This year, the Army won the challenge with MCM winner Lt. Trevor LaFontaine leading the team. Women U.S. Marines won the challenge with Capt. Christine Taranto leading her team.
"This has been such an incredible day," said Melinda Crais. "Jon was a runner before his accident and I know being here today with Thomas is an integral part of his healing. It has not been an easy journey for any of us but we are a family of faith and God is still doing mighty work in Jon's life."
For complete race results, visit www.marinemarathon.com.