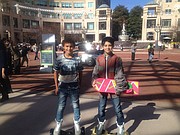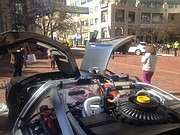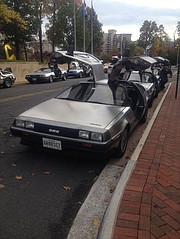 From Oct. 21-27, 56 films from around the world were shown at venues including the Reston Bow Tie Cinemas, Wolf Trap Foundation For The Performing Arts, National Press Club, George Mason University, the Lorton Workhouse Arts Center, the Angelika Film Center and more. Reston Town Center's Bow Tie Cinema hosted many key events. Wednesday evening, Oct. 21, there was a pre-fest marathon screening of the "Back to the Future" trilogy. "I knew I had to attend the marathon," said Langston Hughes Middle School student Chad Nazam, who wore "Back To The Future" garb for the event.
Saturday, Oct. 24, there was Awards Night Ceremony, and thanks were given to Boeing's Tim Keating, Wolf Trap's Terre Jones, Christopher Lloyd, Bob Gale, Ed Asner and the countless filmmakers, partners and friends who helped make the film festival possible. The 2015 Award Winners include: Audience Award Best Short Film: "Rosa - These Storms" by Hannah Gregg and Sean Kusanagi; Jury Award Best Short Film Director - David Darg for "Body Team 12;" Jury Award Best Short Film - "In the Clouds" by Marcelo Mitnik; Jury Award Best Feature Narrative: "Happy Those Who Cry;" Jury Award Best Feature Documentary and Outstanding Directorial Debut: "Frame by Frame" by Alexandria Bombach and Mo Scarpelli; Laura Hillenbrand Outstanding Literary Achievement Award - Nathaniel Philbrick; Sun City Storyteller of Hope Award - Bryn Mooser.
"The film festival has grown a lot, it was very busy this year," said Alton Bryant, a volunteer coordinator and friend of Washington West Film Festival founder Brad Russell. Many staff and volunteers were excited to share the musical "The Sound of Music" at Wolf Trap in Vienna. "We have gone from struggling, to having several venues," said Jodie Smithson, a senior coordinator with Washington West Film Fest.
ONE OF THE FINAL FEATURES of the film festival was the Sunday, Oct. 25 afternoon parade of DeLorean cars which drove into Reston Town Center before a Red Carpet screening of "Back to the Future." Actor Christopher Lloyd, movie trilogy co-writer and co-producer Bob Gale, and cast member Claudia Wells attended the event and took questions afterwards. "It was great that Christopher Lloyd came here. It is great to honor local filmmakers, but to bring some big Hollywood names adds extra quality," said Alexandria resident Kevin McCarthy, who attended with his friend Lauren Veneziani. McCarthy helped with the question and answer session.
A banner stretched across Reston Town Center, welcoming visitors to Hill Valley. "Being a 'Back to the Future' fan, I think it was fantastic. I can say on Oct. 21, I drove my DeLorean in Hill Valley," said Fairfax resident Matt Spinapolice. Tiffany Olejnik drove her 1981 DeLorean with her friend Matt Reynolds from New Jersey to participate in the Sunday Delorean parade. Several DeLorean drivers helped chauffeur VIPs into the Bow Tie Cinema.
Oscar-winning producer Bruce Cohen was recognized for his cinema achievements. "We are proud to bestow Northern Virginia native and Oscar-Winning producer Bruce Cohen with our inaugural Metropolitan Award, given to a world class filmmaker from greater Washington D.C. whose exceptional artistry and influence is the pride of the metropolitan region," said Brad Russell, founder and president of the festival. Cohen shared favorite highlights from his impressive career and gave the audience a behind-the-scenes look into the producing world.
AS PART of their unique model, Washington West gave 100 percent of box office net proceeds from the #GiveBackToTheFuture red carpet screening to the Michael J. Fox Foundation for Parkinson's Research. Each year Washington West directs 100 percent of its box office net proceeds to projects which aid communities in need. The Robert Duvall Children's Fund was the 2015 Annual Project Partner.