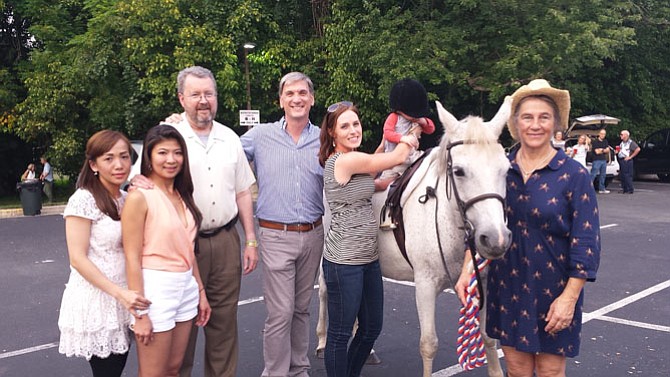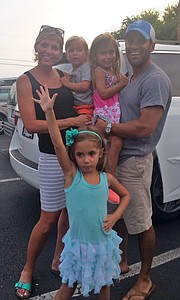 Jenni Rokni has been to all of the nail salons in Great Falls and claims that Great Falls Nails and Spa on Walker Road is her favorite.
"[It's] the one to go to," she said at the Aug. 29 Customer Appreciation Day in the Great Falls Business Center. "We've lived here for three years," she said of herself, her husband and children, and this year is the first that the local merchants have held an event for their customers.
"This is a great event," said Janet Hill, another client of Great Falls Nails and Spa who was present.
Great Falls residents who, like Hill and Rokni, make up the clientele of several local businesses, gathered for an evening picnic, hosted by Great Falls Nails and Spa and The Saddlery, a tack shop owned by Sarah Kirk. Reston-based band, The Cahoots, provided live entertainment playing everything from rock to funk and blues music, and for a small donation, parents could take their children for a pony ride on Pixie, a 23-year-old mare.
"I bought The Saddlery eight years ago," said Kirk. "We're also doing this as a fundraiser for Turner Farm."
"We would like to make this an annual event," said Kim Tran, owner of Great Falls Nails and Spa.
The first 50 guests walked away with tote bags from State Farm Insurance. Each bag contained more information about the businesses, as well as a complimentary organic nail polish, courtesy of Great Falls Nails and Spa.
"We would like to have all businesses out here in the future. The main thing is to thank clients," said Tran.
The Saddlery is open Monday-Saturday, 10 a.m. to 6 p.m., and Sunday,12 to 5 p.m. Great Falls Nails and Spa is open Monday-Friday, 9 a.m. to 7 p.m., Saturday, 9 a.m. to 6 p.m. and Sunday 11 a.m. to 5 p.m. Both are located at 731 Walker Road.