"The selection of Ava Spece to lead the Workhouse was due to her vast, deep appreciation and passion for the Arts as well as her strength, poise and character to help us achieve the dreams envisioned by the Workhouse," said Tim Rizer, chair, Workhouse Arts Foundation Board.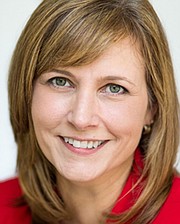 In accepting the appointment Spece noted that, "The Workhouse Arts Center is a truly remarkable place for artists, community members and art lovers to explore and engage in all facets of the visual and performing arts. I feel honored and privileged to be joining this dynamic environment. The vision is incredible and to be on board at such a vibrant time is invigorating."
Spece described the Workhouse as "an impressive facility with a unique, exciting mission." In an interview, she indicated she looks forward to working with "a very engaged Board, a dedicated staff, remarkable artists and community involvement" to build high impact and appeal for all ages.

"The arts are so valuable to everyone. They can help us feel valued and can help us discover who we are at any age," said Spece. "Arts audiences are no longer content to be passive viewers. They want an experience and we plan to build interactive experiences for visitors to the Workhouse."
With a career spanning over twenty years leading both nonprofit and for-profit organizations, Spece was selected after a national search. Her previous work includes leadership as the president and CEO of the Visual Arts Center of Richmond; executive director for DC Youth Orchestra; and consultant for Mannheim Rocket. She is currently on the Board of Virginians for the Arts and DC Advocates for the Arts.
The Workhouse Arts Center, a cultural and historical landmark, opened in 2008 in the readapted former prison in Lorton. Visual and performing arts programs and a variety of affordable arts education programs now serve thousands of students, regional studio artists, and visitors each year from the surrounding Laurel Hill community and well beyond on the 55-acre campus.

Outgoing President John Mason, "was the perfect leader for the conversion of the Lorton Arts Foundation into the Workhouse Arts Center," said Rizer. "He brilliantly and doggedly fought to save the promise of the Workhouse Arts Center through the most difficult and complicated times."
"We are ready to go," Rizer added; "be prepared to be amazed: Great things are just starting to happen at the Workhouse".
The Workhouse Arts Center is located at 9601 Ox Road, Lorton. For more information about the Workhouse Arts Center or to learn more about the programs it offers, call 703-584-2900 or visit at www.workhousearts.org