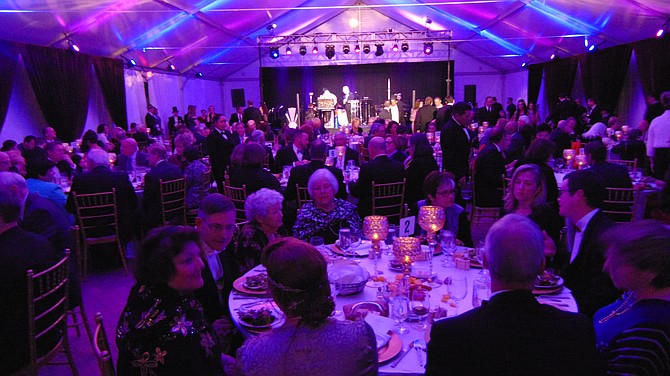 With the theme, "Murder on the Orient Express," about 250 people attended the Workhouse Gala 2018 on Saturday, Nov. 17, 2018, at the former Lorton Prison complex. Billed as the biggest fundraiser of the year, guests came dressed in 1930s Hollywood glamour with beaded gowns, black ties and coats, some even in top hats – à la Agatha Christie.
There was a cocktail reception with piano player Harold Walbert, and hors d'oeuvres followed by a catered dinner in the Rizer Pavilion by Design Gala with California wines, beef and salmon. Chou Chou and the Doc Scantlin Orchestra provided the musical entertainment.

"We're here to celebrate the Workhouse, its history and its mission. It is one of our largest events in terms of raising money for all the programs that we provide to the community – the 100,000 visitors that we serve annually," said Elena Romanova, Director of Development. "This event allowed us to pull our creative juices together and get our donors, supporters, friends, artists in the same room, also to celebrate the 10th anniversary of the Workhouse."
According to Workhouse President and CEO Ava Spece: "This is our biggest annual fundraiser for the Workhouse, so we count on this event to help fuel programming and activities and salaries, and all of those things like a lot of nonprofits do. We have a great deal of priority placed on exposing our audience to the performing arts and visual arts while they're here for this event. So, there are character actors that are walking around the room engaging the audience in a mystery that when we get to the tent, we'll have a solution and we'll find out the answer to the mystery."
Some of the VIPs in attendance included Board of Supervisors Chairman Sharon Bulova; Supervisors Dan Storck of the Mount Vernon District; Linda Smyth of Providence District; and Kathy Smith from Sully District.
Receiving the Arts Angel Award was the guest of honor, Michael Kaiser, who was formerly President of John F. Kennedy Center for the Arts from 2001 to 2014. The world-famous arts administrator also started an arts management institute at The Kennedy Center, which is now called the DeVos Institute of Arts Management. "He was a guiding light for a lot of us when we were younger in terms of how we were managing our arts organizations and what it means to be successful," said Spece.
The event was organized by Gala Committee Co-Chairs Sandi Martina and Greg Gadson.