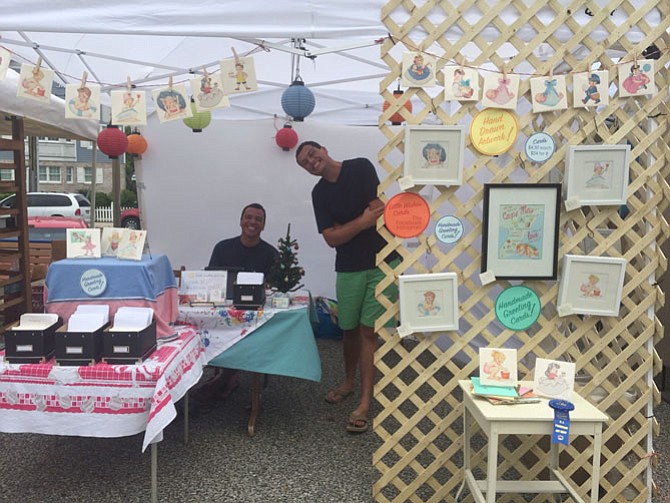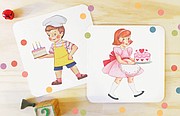 Patrick Hulse, together with his brother Shane, has cracked the code: turning what he loves into a business. Patrick is a junior at the Rhode Island School of Design pursuing a degree in illustration. Shane is a freshman at New York University studying business. Last year, the South County High School graduates (Patrick 2013, Shane 2014) launched "Little Wishes," a handcrafted greeting card company.
Since starting, over 2,000 cards featuring 42 different designs by Patrick have been sold. Sales are through the online peer-to-peer e-commerce website Etsy and six shops in Virginia and New Jersey.
The designs are themed for holidays, birthdays, graduation and babies, often depicting rosy-cheeked children, angels or Santa Claus with bright colors reminiscent of the "Little Golden Books" children's series.
Shane describes the card designs as "very nostalgic, vibrant, whimsical, very positive. That resonates with a lot of people, it's something that's visually appealing."
Much of Patrick's artwork focuses on exploring and celebrating childhood, both his own and other people's. "I find that whole period fascinating," he said. "Children's media, television, toys -- it very much appeals to me."
Growing up around West Point with a father in the U.S. Army and a mother teaching kindergarten, then moving to the suburbs of northern Virginia, the Hulse boys had a lot to be thankful for. "We both had fantastic childhoods," Patrick said. "That's part of why I look back with so much positivity, I remember it as a very special time."
PATRICK WANTS his art to be more of an upbeat light on life when so much other art he believes becomes a negative-critical statement. "There's a lot of things going on in the world and not necessarily the chance to fix all of those things," Patrick said. "But I wanted the opportunity to put something good out there, give people a chance to smile. Being upbeat, happy, celebrating -- that's the whole point, why you send a card."
Using handmade cards to share his art and upbeat outlook is another aspect of the "Little Wishes" model. Patrick stresses "the passage from hand to hand" as an experience he wants to initiate and foster with the product. "I draw images myself, Shane rounds the corners; from hand to hand, we pass it to you, you'll write your own message by hand.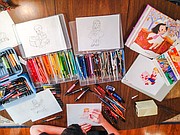 "The connection is very important," Patrick added. "The things hands can do will never become obsolete, like a handshake."
Conveying this message and helping translate it into a viable business fell to Patrick's younger brother Shane, who used it as a model in his marketing class and DECA competition for marketing students around the world.
Shane prepared a 30-page business plan with projected financials, marketing, advertising campaigns, social media effort and how he would show a return on investment. For competition, Shane also had to give a 15-minute presentation using technological visuals, interactive boards and PowerPoint.
Out of DECA, an organization with 200,000 international members, Shane advanced from a field of 20,000 past the district and state competitions, and placed in the top 50 at the world stage last April in Orlando, Fa.
Shane's marketing teacher at South County, Ms. Kellen Scott, attributes his success to having a talent with people and being a strong leader. "He knows how to connect and get people interested," Scott said. For the two years she taught him, "he was putting in 110 percent. His attention to detail really sets him apart, especially for a high school student."
Patrick first put the cards online through the e-commerce website Etsy. Not expecting much response, he only bought materials to produce 20 cards. Within the first hour his online store was live, he had ten orders. "Oh my, I'm going to need a lot more paper," Patrick remembered thinking.
INTEREST IN THE CARDS grew online and by word of mouth, but the brothers learned they would need to do more to find a place in the greeting card market. "The majority of people don't buy cards online, but in stores," Patrick said. So together with Shane's teacher Ms. Scott, they priced the cards for wholesale and began selling them to retailers.
After spending a summer in Cape May, N.J., the "Little Wishes" cards are now sold in four different locations around the seaside resort city. They can also be found in VanEch Studios in Occoquan and the Stifel and Capra shop in Falls Church. To help engage with the two communities, they met with shop owners face-to-face and began social media campaigns through the photo-sharing application Instagram.
While the brothers are still pursuing their educational goals, they don't have immediate plans for massive expansion, but would like to start selling the cards beyond the East Coast in the future. The brand is a finalist for the Martha Stewart "American Made" competition in the craft category. Scott thinks they have a strong chance.
"They're authentic," she said. "There are products like this out there, but not quite as high-quality. Knowing Patrick does all of it by hand, using the best resources available to make them, the two brothers back story, is one customers who would buy them would connect with."
For more information about Little Wishes greeting cards, visit patrickhulse.com/Little-Wishes-Cards.