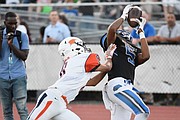 While the West Potomac and Lake Braddock football teams no longer compete as Patriot District foes, Wolverines head coach Jeremiah Ross is looking forward to Friday's trip to Burke with an excitement fueled by a recent history of competitive battles with the Bruins.
West Potomac (1-0) will compete in its first road game of the 2018 season when it travels to face Lake Braddock (0-1) at 7 p.m. on Friday, Aug. 31.
After a lopsided 30-6 loss to Lake Braddock in 2014, Ross' first season with West Potomac, the Wolverines' last three meetings with the Bruins have been decided by three points or less.
Lake Braddock won the next two matchups by a score of 24-21, with the 2016 game going to overtime. In 2017, with West Potomac having joined the new Gunston District, the Wolverines beat the Bruins, 28-26. It was West Potomac's first victory over Lake Braddock since 2007, according to records on maxpreps.com.
While Friday's meeting with Lake Braddock doesn't provide West Potomac an opportunity to gain an advantage in the district standings, it does offer the Wolverines a chance to compete against a perennial power.
"I think it's a fun game," Ross said. "It's always been competitive. The kids get fired up for it. It's a cross-freeway rivalry kind of thing. I know they've got bigger games on their schedule, but we just like playing them."
Said Ross: "It's a benchmark game for us."
West Potomac opened the season with a 24-14 home win over Briar Woods on Aug. 24. Junior quarterback JT Mayo completed 15 of 28 passes for 263 yards and a touchdown for the Wolverines. He also carried 11 times for 109 yards and a score.
"He's the guy," Ross said, "who makes our offense go."
Quaronde Bennett caught five passes for 145 yards and a touchdown. Deandre Doherty had five receptions for 83 yards and running back Richard Kobiah carried 11 times for 42 yards and a score.
Lake Braddock opened the season with a 42-21 loss to three-time defending state champion Westfield.