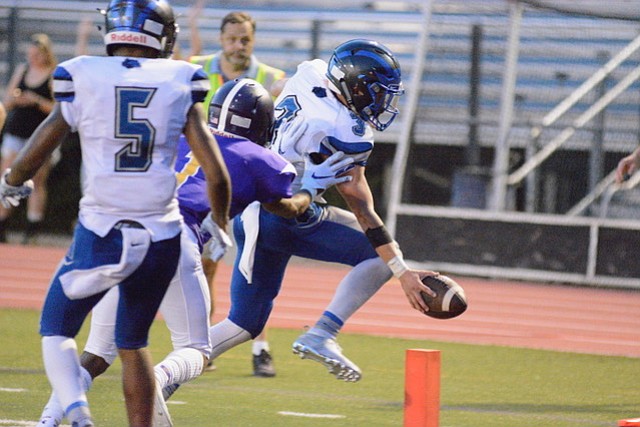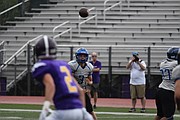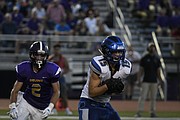 Down 15 points and facing fourth and goal from the 1-yard line, West Potomac quarterback JT Mayo received a reason to panic in the form of a shotgun snap sailing over his head.
But rather than lose his composure, the junior signal caller turned around, scooped up the ball, headed to his right and strolled into the end zone for a second quarter touchdown against Lake Braddock.
Mayo gave West Potomac fans a glimpse of his playmaking abilities during an otherwise rough weekend for the Wolverines, accounting for four touchdowns during a 50-28 loss to the Bruins in Burke.
The game between former Patriot District foes started on Friday, Aug. 31, but lightning suspended the contest with Lake Braddock leading by 36-21 with 4:11 remaining in the third quarter. Play resumed the following morning, and the Bruins took control on the first play with an 18-yard touchdown pass from Billy Edwards to Ben Dizon on fourth and goal.
After opening the season with a win over Briar Woods, West Potomac stumbled against Lake Braddock, turning the ball over four times and allowing 50 points in a game for the first time since surrendering 53 to South County on Oct. 30, 2015, according to maxpreps.com.
"We've got to learn to make plays," West Potomac head coach Jeremiah Ross said. "We're a young team. … We've got to learn from it."
Mayo was a bright spot for West Potomac. The first-year varsity starter passed for 255 yards and a touchdown and rushed for 129 yards and three more scores, including a 90-yard touchdown run that cut the Lake Braddock lead to 22-21 with 4:02 remaining in the second quarter.
"He's a stud," Ross said. "He's a competitor. He's the heartbeat of our team. … He's definitely a leader."
Mayo, part of a West Potomac offense that includes 11 new starters, experienced a few rough patches, as well, throwing a pair of interceptions and losing a fumble.
Ross hinted that standout Lake Braddock linebacker Josh Ahern, who is committed to the University of Virginia, might have had something to do with Mayo's struggles.
"He's still young, he's still learning," Ross said. "He missed a few throws. When it comes down to it, we've got to be better up front. We've got to protect him better; the guys know that. … When you can't set your feet, it's a lot harder. When you've got a UVa commit basically spying you the whole time and he's [a] 6 foot 3, 6 foot 4, 215-pound dude that's trying to take your head off, I [wouldn't] really want to do that."
Mayo's family moved from Hawaii to Virginia prior to his sophomore year of high school. He was a member of the West Potomac junior varsity team in 2017.
His father, Neal Mayo, is a lieutenant colonel in the U.S. Army. Along with Hawaii and Virginia, Mayo has lived in Tennessee, Georgia, Texas, New York, Kansas and North Carolina.
"[As a] military child," Mayo said, "I'm used to moving."
Mayo connected with Gabe Tose seven times for 89 yards against Lake Braddock. Justin Bassett caught four passes for 34 yards and a touchdown. Quaronde Bennett had four receptions for 43 yards.
Ross also praised the performance of junior lineman Keyshawn Suber.
"He makes tons of plays on defense, he's a dynamic kid on defense and a heck of a lineman with great feet," Ross said. "He's coming along. … He's figuring it out and starting to become that kind of leader."
Next up for West Potomac is a trip to Vienna on Sept. 7 to take on Madison. Kickoff is scheduled for 7 p.m.
"Lake Braddock, they had a good team," Mayo said. "We're definitely better than we showed today. We'll fix it up, come back next week and be ready for Madison."