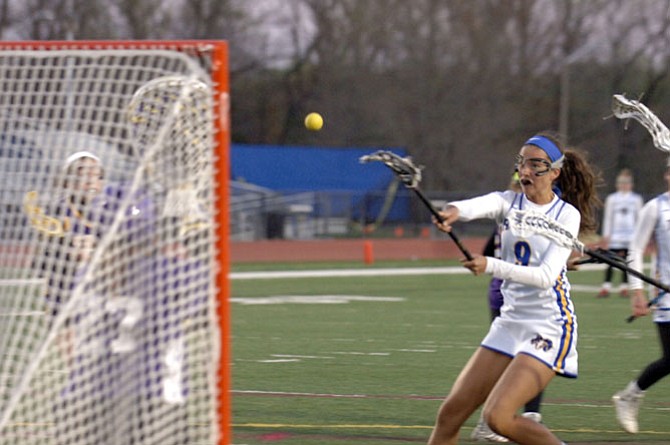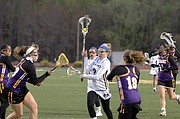 Katie Checkosky scored Robinson's first goal less than four minutes into Tuesday's home game against Lake Braddock. One minute later, Ellie Kluegel found the back of the net. Taylor Caskey then added back-to-back goals, leading to a Bruins timeout with 18:58 on the clock.
It would only get worse for Lake Braddock.
In less than 10 minutes, Kluegel had a hat trick and three different Rams had scored multiple goals.
In less than 15 minutes, Robinson had built a 10-0 lead.
When the game ended, Robinson had won, 19-1.
THE DEFENDING STATE CHAMPION Robinson girls' lacrosse team has been no stranger to blowouts early in the 2016 season. The Rams are 8-0, winning each game by at least 10 goals. They have outscored their opponents 151-27, including a 79-11 margin against public school foes.
The toughest competition Robinson has faced came during the "Spring Fling" tournament on April 2 at St. Stephen's & St. Agnes School. Playing in back-to-back games against private school opponents, the Rams defeated St. Anne's-Belfield, 18-8, and Collegiate, 21-7.
"Playing the private schools, that was a shock," said Kluegel, a junior midfielder. "It was close at the beginning, but I think we're a team, when we really get in the groove of it, we just keep going and we don't let off the gas. I think a lot of our scores have reflected that so far."
Robinson finished 21-1 last season, winning Conference 5, 6A North region and state championships. The Rams' only loss came against Georgetown Visitation, a private school. Robinson returned the majority of its roster and has continued piling up victories.
So how do the Rams stay motivated?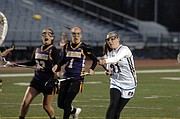 "[Head] coach [Liz] Case keeps us motivated in practice a lot," said Kluegel, who was a US Lacrosse All-American as a sophomore. "She tells us before every game that the team we're about to play has nothing to lose and she stresses to us we have everything to lose ­­­ everyone's gunning for the state champions and it's our job to defend that and defend our school and defend our title."
The desire to repeat is also a driving force.
"A lot of us have experienced the amazing feeling of what it feels like to win a state championship," said Checkosky, a junior attacker/midfielder, "and we want to do whatever we can to have the same feeling and be able to experience the same stuff that we did last year."
Robinson certainly has the talent to get the job done.
Kluegel, a Loyola University Maryland commit, and Checkosky, a JMU commit, each scored six goals and had two assists on Tuesday night. Caskey, a senior midfielder and one of three team captains, finished with five goals and three assists. Senior attacker/midfielder Kaitlin Luccarelli, a Longwood University commit, had two goals and three assists.
"We all just want to shoot a lot and get our goals and everyone wants to get their own goals, but we never go in there, like, 'We want to score 20 goals,'" said Caskey, who will attend Virginia Tech but is uncertain about her lacrosse future. "We want everyone to score."
With all the talent on the Rams roster, Case said practices get quite competitive. The Robinson defense includes senior goalie and captain Danielle Valenti, and senior defender and captain Emily Skrzypczak, who will play at Ohio State.
"The coolest thing is our practice, because of our offense against our defense, it's pretty intense, the level of play," Case said. "They're constantly being challenged every day in practice by each other. They don't stop just because it's practice. You go 100 percent."
Next up for Robinson is a home game against Westfield at 7:30 p.m.on Tuesday, April 12.
ON FRIDAY, April 15, the Rams will travel to face a Woodson team that is currently undefeated against public school competition.
"We're going for the [championship] again, but this year we want to go totally undefeated," Luccarelli said. "Last year, we only had one loss, so there's not much more we can do than win the second state title."