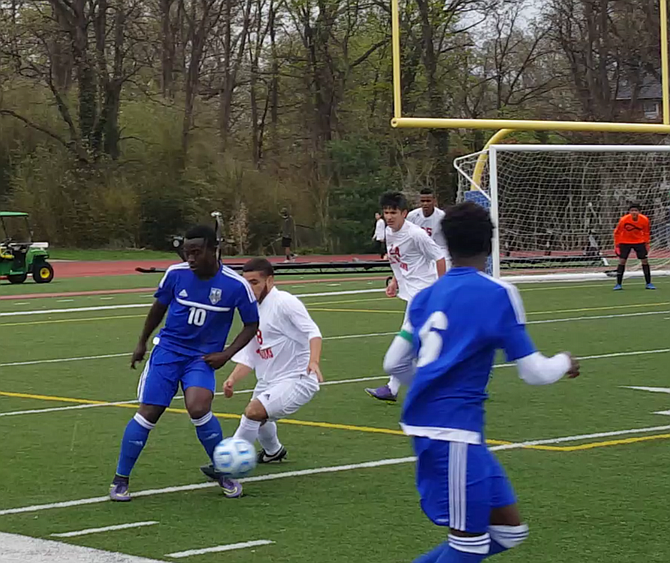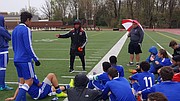 West Potomac boys' soccer coach Ahmad Sasso adjusted his formation in an attempt to get an early goal during Monday's match against T.C. Williams.
The decision proved to be a wise one.
Senior midfielder Bright Somuah scored a goal in the 20th minute, West Potomac led 2-0 at halftime and the Wolverines held on for a 3-1 victory over the previously unbeaten Titans on April 4 at T.C. Williams High School.
West Potomac led 3-0 after Somuah scored his second goal of the match in the 52nd minute.
It was the Wolverines' first win over the Titans since 2009.
"To be honest ... we followed their record. So far they were undefeated," Sasso said. "I decided to come and play an open game. If you see, my formation is normally a 4-2-3-1, but I came in and played a 4-4-2 hoping to get something in the first 20 minutes, so, tactically, everything worked."
T.C. Williams entered the game with a 3-0 record, including a 2-0 victory at Lake Braddock on March 31, and had outscored its opponents 6-1. On Monday, the Titans were down three before sophomore defender Mohanad Ibrahim scored the team's only goal in the 55th minute. Ibrahim was originally ruled offside, but the call was overturned.
"The boys came into the game ... thinking that [the Titans are] out there partying because they're [3-0]," Somuah said. "We just wanted to shut them down. ... It's always a rivalry. We can't have them keep going like that. We just had to stop it there."
West Potomac's lead grew to 2-0 right before halftime due to a T.C. Williams own goal. Wolverine junior Gabriel Caicedo sent a corner kick into the box and the ball deflected off a Titan player's head into the net.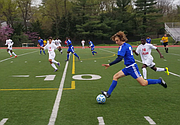 "That was tough," T.C. Williams head coach Peter Abed said. "When it's 1-0, you can come in and say, 'OK, we played a really bad first half, but ... it's 1-0' and you can still come back — one goal changes everything. When it's 2-0, it's a little bit deflating, especially right before the half. That's always a deflating time to have a goal scored on you."
The victory improved West Potomac's record to 3-1 overall and 2-0 in Conference 7. The Wolverines opened with a 2-0 win over Falls Church on March 14 and lost to Lee, 5-3, on March 16. West Potomac won its first conference match against West Springfield, 3-2, on March 31.
"They wanted it more today," Sasso said about his team's performance compared to its effort against Lee. "Against Lee, they didn't want it. I heard them talking, 'It's not in our conference.' ... It was a wake-up call."
West Potomac won the Conference 7 championship last season — Sasso's first as head coach of the Wolverines — but lost in the opening round of the 6A North region tournament.
Caicedo said this year's team has "big expectations."
"We have a lot of heart and we're [defending] district champions and we want to make sure that we don't put it down," Caicedo said. "We want to keep going, go to [the state tournament] this year and get something new in our gym."
West Potomac will travel to face Thomas Jefferson at 7:15 p.m. tonight.