When they decided not to move-on after retirement, seniors Mike and Sandy Nusbaum slowly began enlarging their long-term residence with several goals in mind.
Ten years and four improvements later, the couple's Alexandria home is ideal for extended visits with children and grandchildren-- and all sorts of everyday pleasures.
Home improvements can come in many sizes: life-changing or simply necessary; comprehensive, or something to please the grandkids.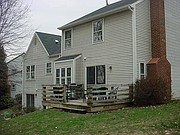 What motivates the desire for change is often entirely personal; to walk around the house is to perceive what might be expanded or renovated; re-configured or upgraded. The real problem is practical: how to conveniently and affordably implement a list of desired improvements-- especially when experience tells you that securing a satisfactory outcome for even a basic household repair can be challenging.
In this context, it's heartening to talk with Mike and Sandy Nusbaum, retired empty-nesters who have executed mid- to large-scale renovations to their thirty-year-old south Alexandria residence in phases, about once every two years and for more than a decade.
Plainly, the Nusbaums like their house, a circa-1980s Colonial-style home where they raised three children. While somewhat space-constrained at its original 2,100 square feet, the structure's location adjacent to woodland and minutes from historic Old Town made it hard to beat.
While somewhat space-constrained at its original 2,100 square feet, the location adjacent to woodland and minutes from historic Old Town Alexandria made it hard to beat.
As retirement neared, however, the couple began cautiously reassessing their home's basic assets, even briefly considering a move to a bigger place.
"You have to ask yourself whether the next house will actually improve your quality of life," Sandy Nusbaum says, recounting her thoughts of twelve years back. "When we looked at the alternatives … we realized there were only a few things about our house that we didn't like."
AND SO IT BEGAN. Plans for incremental changes. Kitchen and screened porch. New family room and deck. Lower level. Enlarged Garage … Facilitated by a new relationship, with 30-year veteran remodeler David Foster, principal of Foster Remodeling Solutions.
"We met some homeowners at a local home show who raved about David," Sandy recalls. "His integrity… the conveniences offered through his company's show room. It's more than proven out. David has a low-key style, and a strong service orientation that helps us make informed decisions."
Looking back, while the remodeler's fresh design ideas were critical, the couple also appreciated his clearly-stated, always-reliable cost projections.
"WE WERE ON THE CUSP of retirement and didn't want debt," Mike Nusbaum says. "Our first thought was to make targeted improvements to the kitchen while keeping our options open for the larger family entertainment suite we might undertake as we assessed the budget issue."
Foster was not only supportive of such thinking, but, as the Nusbaums learned, considers "phased remodeling" an integral part of his company's service.
"I grew up in Fairfax County and have learned my business by helping homeowners find a process that will work for them as they think ahead," he says. "Being a trusted resource is essential to how we operate."
Once work began, the Nusbaums particularly noted the foresight Foster brought to each improvement.
"Ten years ago, we wanted the rooms extending from the kitchen to function better as a place for entertainment We had a small dining room that wasn't being used much. The back rooms were too dark," Sandy Nusbaum recalls.
In short order, the wall between the kitchen and dining room disappeared, replaced by a three-stool Silestone counter that has become the couple's primary kitchen gathering area. That counter surface was also positioned as a serving station for the new elevated 16-by16-foot screened porch that is now a much-used fair-weather dining spot.
A new window over the kitchen sink adds natural light and a lovely view of the backyard.
"When you walk from the kitchen to the screen porch, it feels like you're walking in the air through the trees," Sandy says. "This gave us a wonderful re-discovery of our own backyard."
From there, it wasn't long before the Nusbaums began planning an extension of the rear family room, an open-air grilling deck and a pathway that permits children, grandchildren and guests to circulate freely through a wide-ranging suite of rooms used for social gatherings.
Though only 150 square feet, the new family room allows for a better furniture configuration and directs thru-traffic away from key activity zones. A course of divided-light windows with "eyebrows" provides lively sightlines to the wooded setting, "It was at this point that we started having holiday gatherings for up to thirty," Sandy says. "Such fun!"
WHICH LED TO THE THIRD PHASE: Transform the 800-square-foot lower level into an exercise room that doubles as a guest suite. Here a comfortable Murphy bed folds out of a discrete closet. There's a full bath, and built-in serving station with refrigerator and microwave. The Nusbaums refer to it as "the family suite." On holidays, it can be occupied for two or three days a stretch.
Then, just last year, Foster created a second bay for the garage by building a wing off the side elevation. The new construction is supplemented by a garden shed accessed from the yard. The contents, pruning tools, mower, freed up floor space in the garage, which now (for the first time) has room for something special: two cars.
"What we really appreciate about David Foster is there are no bad surprises, and frequently there are good ones," Mike Nusbaum said. "Last year, for instance, he repaired a window that was out of warranty and didn't charge us. That kind of service encourages you to think ahead."
John Byrd (byrdmatx@gmail.com or www.HomeFrontsNews.com) has been writing about home improvement for 30 years.