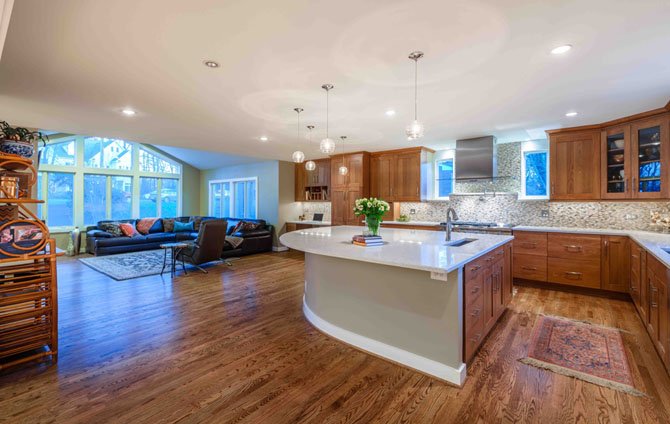 Assess a circa-1952 ranch on a shady street in McLean with an eye towards maximizing value.
Among the shortcomings: rooms that are too small and dark; a kitchen that hasn't been remodeled in 25 years. A tiny breakfast room. A rear grade too steep for an addition. A front elevation with no visible front door.
And in the plus column: a neigborhood that's gone decisively upscale; a solidly constructed starter house in a "come-back" style. Just enough undeveloped side lot to add useful square footage. An enviably location at the end of a cul de sac.
Bring to this proposition the team of Sarah Wolf, interior designer, and Josh Britton, architectural draftsman — both at Foster Remodeling Solutions — and what's revealed are the skills sets that are transforming so many non-descript mid-century dwellings into the spacious eclectically-designed residences expected of northern Virginia's close-in neighbodhoods.
"We're seeing more homeowners preserving and elaborating post-War suburban styles," said Sarah Wolf. "The ranch and other smaller-scale dwellings are especially fascinating. They've long been classified as the protoytpe for the modern production house, yet we're now seeing how inventive design ideas can be applied to achieve architecturally-relevant makeover goals."
What has turned into a two-phase design process — that will eventually include a second level master suite — began with a single meeting. Wolf had been summoned by homeowners — who had occupied the house for 20 years — "to brainstorm" options for enlarging the kitchen and family room, and re-defining the bare-bones front elevation.
"The previous owners had relocated the original front door to the side sometime in the 1990s," Wolf said. "So one of the early questions was whether it made sense to revise the front elevation in conjunction with a proposed kitchen enlargement."
As the meeting progressed, several key points emerged.
Yes, the owners wanted a substantial enlargement to the kitchen and family room, but the existing interior was also too narrow and too dark. Moreover, since the home's leafy half-acre lot backs into a grove of mature trees bordered by a lovely creek, shouldn't the interior makeover be designed to profile the surrounding landscape?
"SUDDENLY, WE ALL SAW the aesthetic opportunity," Wolf said. "There would be larger windows on all sides. But also a new front-facing family room — with an 11-foot cathedral ceiling dominated by an extensive window wall."
The window wall would, in turn, help to contexturalize a more symmetrical front elevation — one defined by a processional entranceway with double french glass doors and sidelights.
The first chellenge, however, was contending with the peculiarities of the lot itself.
"The entire plan depended on adding about 350 square feet on the south side of the house while staying within [Fairfax] County setback requirements," said project draftsman Josh Britton. "Since the set- back limit runs diagonally on that side of the house, I designed a two-component footprint which steps back from the front elevation."
Necessity being the mother of invention, the solution makes adroit use of tight tolerances. Space formerly allocated to the old kitchen/family room combination is absorbed into a gourmet kitchen configuration which gains 130 square feet to the west for a total of more than 450 square foot. The new family room — tapering down to 220 square feet — supplants a former front deck.
Taken as a whole, the floor plan is functionally a "great room." Clever variances in room width, ceiling height and sightlines differentiate clearly-identified "use" spaces while reinforcing their inherent sense of privacy.
"The slightly narrower width confers a degree of intimacy on the family room," Wolf said. "On the other hand, the cathedral ceiling and window wall heighten the drama — enticing the eye to move up and out."
Wolfe's interior design scheme, likewise, balances detailing within a well-integrated whole.
Provincial-stained red oak flooring lends cohesion to the entire suite which now flows into the revised living and dining rooms.
Large windows facing south and west bring the richly wooded backyard close-in, forming a setting for an eat-in ktichen that is both highly functional and eye-catching.
The kitchen's centerpiece is a food preparation island and dining counter that seats six. The custom built-in is positioned to support both cooking and clean-up tasks while protecting the cook's work triangle. Drawers designed to the chef's requirements called for easy access to a pull-out mixer stand, a roll-out vertical spice rack, and slots specially fitted for everyday china.
The island's "ice stone" surface complements a mosaic backsplash comprised of marble, glass, chrome and shell. Glass pendant lamps and lights contribute further to a pallete of lighter tones which are countered by cherry cabinets and more textured elements.
In the family room, the 54-inch stainless steel hearth with gas burner embedded in river rock is both a heat source and a decoratively ornamental focal point.
Flanked by open cubbies featuring glass display shelves, cherry wood cabinetry, and a wine rack abutting a refrigerator, the built-ins define a functionally separate family entertainment zone that includes wide-screen plasma TV mounted above the fireplace.
A more congenial spot for holiday entertaining is hard to imagine.