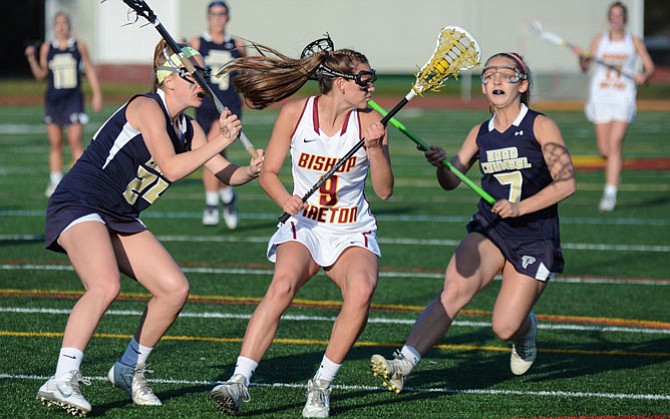 After winning eight straight games to open the season, the Bishop Ireton girls' lacrosse team faced two of the nation's top programs in a four-day span.
The Cardinals came out with a pair of losses, but remain undeterred in their focus on winning a pair of championships in May.
Ireton, the No. 6-ranked team in the Nike/Lacrosse Magazine national poll, hosted No. 1 McDonogh on April 11. The Cardinals led briefly, 2-1, before the Eagles scored 10 straight goals to take control of the game on their way to an 18-8 victory.
McDonogh held a 20-8 advantage in draw controls.
"Just like we say before every face off: 'You get the draw, you get the goal,'" Ireton head coach Rick Sofield said. "They got the draws, they got the goals. The game's really not all that complicated. The kid they have at center, Maddie Jenner, did a great job, she really did. ... If you told me before the game we were going to lose draws 20-8, I would have been able to predict the score at the end of the game."
McDonogh led 13-4 at halftime and led by at least eight goals for the entire second half.
"They're versatile everywhere, but I think today really cemented that [the] draw is everything and I think sometimes we take that for granted," Ireton junior Kayla Duperrouzel said. "That is the game-changer. If we would have even played them 50-50 on the draws with who got the possession, I think it would have been a completely different game."
Duperrouzel finished with one goal and three assists. Senior Kelly Larkin led the Cardinals with four goals. Sophomore Lexi Ledoyen had two goals and junior Kayla Marshall had one.
"The times that did we have possession, I felt like we played really well," Larkin said. "We worked the ball around, worked together and we got a lot of shots off and goals."
With McDonogh stalling near the end of the game, Sofield twice pulled the Ireton goalkeeper in an attempt to pressure the ball. Each time, the Eagles scored a goal.
"As I told these girls after the game, 'If you think I'm OK hanging back and just being satisfied only losing by eight or nine goals and letting them stall the last 5 minutes, you have no idea what this team is about,'" Sofield said. "We compete for 50 minutes, we want to get the ball for 50 minutes and we play an entire 50 minutes. I'd rather lose by 30 trying to go get the ball back, instead of being satisfied with an eight- or nine-goal loss where we let them stall for 5 minutes."
Sofield said he was pleased with the way the Cardinals continued to compete despite McDonogh leading by 10 goals in the first half, which triggers a running clock.
On April 8, Ireton hosted WCAC foe Good Counsel, which is ranked No. 3 in the nation. The Cardinals trailed 8-4 at halftime, but pulled within one in the second half before falling 9-7.
"I think we did great [against Good Counsel]," Duperrouzel said after the McDonogh game. "I think our defense did amazing. It wasn't one of our attack's best games, but I think we showed that we're right there with them."
Sofield said the Cardinals understand facing top teams will help them come playoff time, but the losses should still bother the players.
"We talk about playing the best teams in the country to get ourselves ready to play in May," he said. "That said, they would not be kids I would want on my team if they weren't angry after a 10-goal loss. They should be angry, they're competitors. If they're OK, if this doesn't bother them, they don't belong on this team."
Ireton responded with an 18-6 win over Elizabeth Seton on Tuesday, improving the team's record to 9-2. The Cardinals will host St. Mary's Ryken at 4 p.m. on Thursday, April 14.
"Every year we have the hardest schedule out there that we could possibly get and we know each game is a challenge," Duperrouzel said. "We're not concerned with the wins and losses of the regular season. Everything is just building up to those playoff games. We'd rather lose to an amazing team than play an easy schedule because everything is making us better for May."