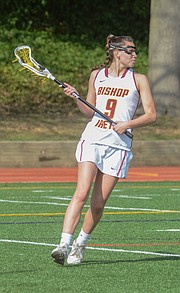 The Bishop Ireton girls' lacrosse team remained undefeated, improving to 6-0 with a 19-6 victory over Brighton (N.Y.) on Tuesday afternoon in Alexandria.
"I'm pleasantly surprised," Ireton head coach Rick Sofield wrote in an email. "We are still figuring things out and making mistakes so I'm very proud of the girls for finding ways to win while we are developing chemistry."
Ireton senior attack Kelly Larkin (Navy) finished with four goals and four assists. Sophomore attack Lexi Ledoyen (Syracuse) had four goals and one assist. Junior midfielder Kayla Duperrouzel (William & Mary) had two goals, four assists and eight draw controls, helping the Cardinals win draws 23-2.
"Duperrouzel," Sofield wrote, "continues to do extremely well on draws."
Larkin is the team's leading goal-scorer this season with 21, and also has 11 assists. Duperrouzel has a team-high 12 assists, along with 11 goals. Ledoyen has 15 goals and five assists.
"We are competing at a very high level and are playing fast," Sofield wrote.
"Our execution and decision-making will need to improve before we are ready to reach our full potential."
Bishop Ireton remained at No. 8 in the March 22 edition of the Nike/Lacrosse Magazine Girls' National Top 25 poll. At that point, the Cardinals were 3-0, with wins over No. 25 Georgetown Visitation (16-8) on March 15, Ontario, Canada's Hill Academy (9-8) on March 17 and Bishop McNamara (18-0) on March 18. Since then, Ireton has defeated Holy Cross (11-10) on March 22, Pennsylvania's Agnes Irwin (12-9) on March 28 and Brighton on Tuesday.
"Our point guards, Kayla Duperrouzel and Kate Carney (Cincinnati), keep getting better at running our sets and getting multiple players involved in the offense," Sofield wrote. "Larkin is improving at taking advantage of her opportunities without trying to do too much on her own. Britt Dolan (Penn State) and Maggie Lohrer (Boston) have really stepped up as the leaders on defense and out­work everyone else at making the little plays needed to be successful."
Ireton will face Victor (New York) at noon on Saturday, April 2 at the University of North Carolina at Chapel Hill. The following day, the Cardinals will take on Loyola Academy (Illinois) at 10 a.m. at Catholic University in Washington.
After traveling to face Victor and Loyola Academy, Ireton will host two of the top teams in the country in a four-day span.
The Cardinals will take on WCAC foe Good Counsel at 4 p.m. on Friday, April 8 at Fannon Field. Good Counsel is ranked No. 3 in the Nike/Lacrosse Magazine national poll.
On Monday, April 11, Ireton will face No. 1 McDonogh at 4 p.m. at Fannon Field. Last year, McDonogh defeated Ireton 14-4 in Owings Mills, Md., when the two teams were ranked 1-2, respectively, in the Nike/Lacrosse Magazine poll.
Sofield said the Cardinals will not be looking ahead.
"With the difficult schedule we play, we will have our hands full with the next team we face so we don't have the luxury of looking ahead to any particular opponents deeper in our schedule," Sofield wrote. "We are just trying to get a little better for our next game, whomever it is."
—Jon Roetman