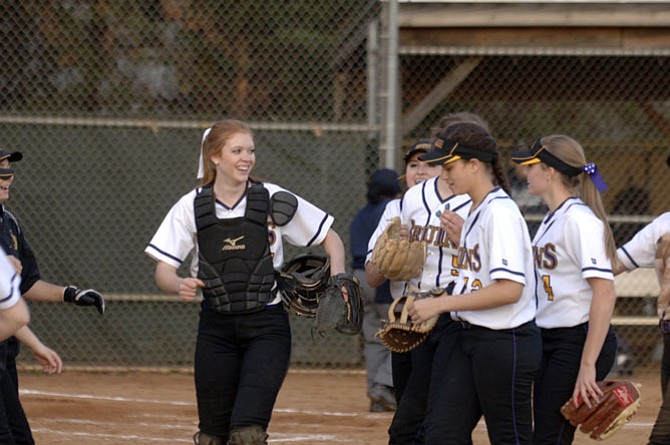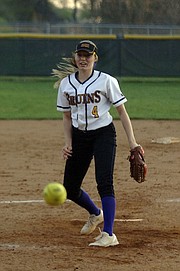 The undefeated season continues for Lake Braddock's softball team, as the team beat T.C. Williams 10-0 in five innings Tuesday night.
The Bruins were able to get the scoring started in the first inning on an RBI single by senior catcher Caroline Jones. Lake Braddock doubled its lead in the second inning off a home run from senior first baseman Ciara Johnson.
T.C. was unable to recover from the early runs allowed, and would ultimately fall in five innings.
"I've been working on being more aggressive lately, and I just hit the pitch and it was right down the middle," Johnson said. "[Games like these] help us to watch the ball. It makes sure we are making the basic plays."
TC was unable to muster any offense against Lake Braddock senior pitcher Abby Thibodeau. With just two base runners allowed, Thibodeau was able to power the Bruins to another win. Since coming over from Paul VI, the Syracuse commit has fit right in as part of a line of great pitchers.
"She's been real important," Lake Braddock head coach George Rumore said. "She's a big plus for us. We had Amanda Hendrix last year, Ashley Flesch the year before that. This is a team that over the last six years has, like, 120 wins and, like, 10 losses and most of those are playoffs."
While the story of the game was the hitting of Lake Braddock, T.C. Williams was able to rattle off a hit in the first inning, a great feat against the Lake Braddock pitching staff. Junior second baseman Kayla Shelley hit a chopper to the Lake Braddock second baseman, and was able to beat out the throw to first. However, that would be the only hit of the game for the Titans, and one of only two base runners for the game.
"We needed our defense," T.C. Williams head coach Jen Ushe said. "We knew [Thibodeau] was going to be a tough pitcher, so we wanted to keep them to as few runs as possible. Unfortunately, we made some errors, but that was our goal this week."
Next up for the Titans will be West Potomac on Thursday. T.C. will face off against the Wolverines at West Potomac. The game is scheduled to start at 6:30 p.m. The Bruins will travel to Woodson for their next matchup. The game will also be on Thursday at 6:30 p.m.