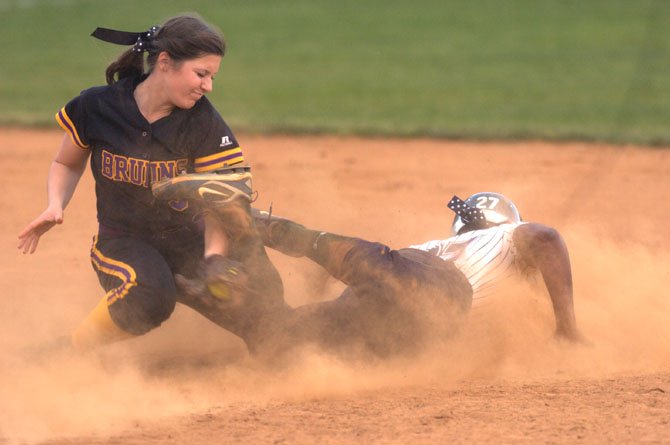 Burke — Lake Braddock's Amanda Hendrix experienced big-game nerves during the Bruins' April 17 showdown with South County for first place in the Patriot District softball standings. As the innings passed and Hendrix labored, she grew angry. But when the contest was over and the freshman had managed to maintain her composure for eight innings, No. 10 felt relief from previous pressure.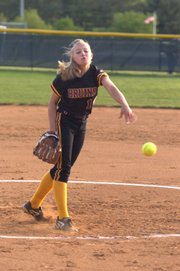 Hendrix tossed a complete game during her third consecutive start in the pitcher's circle, holding South County scoreless after the third inning as the Bruins remained undefeated with a 3-2, eight-inning victory at Lake Braddock Secondary School. The southpaw surrendered 11 hits and allowed at least one South County baserunner to reach scoring position in five of eight innings, but managed to work her way out of several jams.
At the plate, Hendrix grounded out in her first at-bat, but later drove in the Bruins' first run with a sixth-inning triple into the right field corner.
"I know a lot of these [South County players] and it was pretty nerve-wracking," Hendrix said. "I kind of had to get mad in the later innings. I think I held on pretty well. … The biggest pressure that I've experienced so far would be this game. We faced West Potomac [on April 13], which is our second-biggest rival, and then we faced South County. From here on we start over again, so we're playing a lot of the easier teams we faced. For me, the pressure has gone down immensely as of now."
Hendrix, used primarily as the team's designated player this season, moved to pitcher after starter Ashley Flesch suffered a muscle strain in her (right) pitching forearm. Hendrix threw a no-hit shutout against Annandale in her first start on April 11, and blanked West Potomac two days later. Things didn't go smoothly against South County, but she found a way to get the job done, stranding 10 Stallion baserunners while throwing 73 of 107 pitches for strikes.
"She hung in there," Lake Braddock head coach George Rumore said. "All her pitches weren't working, so we had to make an adjustment with that and she just had to be tough. With all your pitches not working, you've got to be tough, you've got to be mentally and physically tough and hang in there and that's what she did. She showed a lot of character."
Lake Braddock scored the winning run in the eighth inning without a ball leaving the infield. Three walks loaded the bases and freshman Emma Rakowski hit a two-out grounder to the left side of the infield. South County third baseman Caitlin Maglich made a diving stop and attempted to tag the Bruin baserunner headed to third, but the ball popped loose and everyone was safe, ending the game.
Lake Braddock improved to 12-0 and sits atop the district standings with a 7-0 record. South County, which entered the game with 11 consecutive wins, dropped to 11-2, with a second-place district mark of 6-1.
"She hung in there. All her pitches weren't working, so we had to make an adjustment with that and she just had to be tough. With all your pitches not working, you've got to be tough, you've got to be mentally and physically tough and hang in there and that's what she did. She showed a lot of character."

— Lake Braddock softball coach George Rumore about Amanda Hendrix
While Hendrix earned the win on Tuesday, it was South County pitcher Rebecca Martin who dominated the early innings. The sophomore right-hander took a no-hitter into the fifth inning before Lake Braddock's Katherine Plescow reached on a one-out infield single. The Bruins broke through the following inning, tying the score at 2-all with three extra-base hits. First baseman Anna Delaney led off the frame with a double to center and, two batters later, Hendrix put the Bruins on the board with a triple down the right-field line. The following batter, Jenna Edwards, tied the score with a triple to left-center.
After popping out to shortstop in her first at-bat, Edwards, one of five freshmen in the Lake Braddock lineup, said she moved up in the batter's box to neutralize the late movement on Martin's pitches.
"I had laid off a few of her [junk pitches], like rise balls," Edwards said. "I saw one that was right down the middle after I moved up and I just … hit it."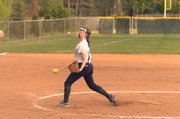 Martin pitched 6-plus innings, allowing five hits and two earned runs while walking three and striking out five. She was pulled after facing one batter in the sixth and re-entered to face one batter in the eighth. Senior Kyra Ketch suffered the loss in relief despite working her way out of a difficult spot in the bottom of the seventh, retiring three straight Bruins with two runners on base.
Singles by Martin, Elyssa Dunn and Riley Wilkinson, along with a Lake Braddock error gave South County a 1-0 lead in the second. The following inning, Stallions catcher Haylea Geer drove in a run with a double down the right-field line. But that would be it for South County, which had runners on second and third with no outs in the fifth but failed to score.
"We had a couple chances early in the game to score some runs and we didn't," South County head coach Gary Dillow said, "and I think that was really the difference in the game."
Lake Braddock will host Lee at 6:30 p.m. on Friday, April 20. South County will travel to face Lee at 6:30 p.m. on April 24. The Bruins and Stallions will meet again on May 10.
"You want that No. 1 seed at the end of the season," Dillow said. "We're only halfway through, so we've got another cycle to go through with everybody. [Tuesday's matchup was] a big game. [Lake Braddock] took care of their home field advantage and hopefully we can do the same."