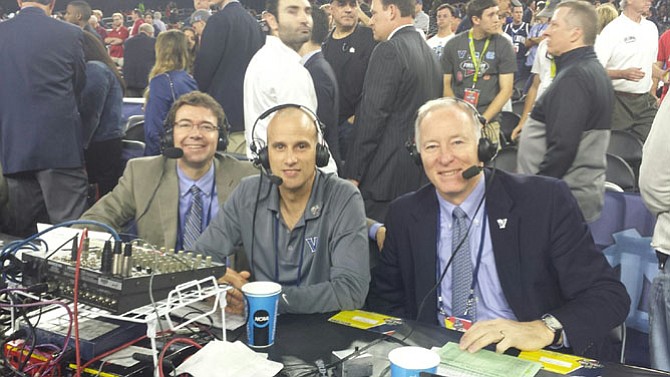 See more Ryan Fannon photos on Facebook.
For years, he has known the agony of defeat. But when Kris Jenkins' 3-pointer slipped through the net as the final buzzer sounded, play-by-play announcer Ryan Fannon finally experienced first-hand the thrill of a Villanova Wildcats NCAA championship victory.
"After that dramatic rally by the [North Carolina] Tar Heels to tie the game at 74-all, half of me was thinking 'I want this like any alumni,'" said Fannon, who has been the voice of Villanova basketball for 18 years. "But I knew I needed to refocus and stay with the play — to do my job first then let the emotions come out after the play.'"
And Fannon did just that.
With 4.7 seconds left in the April 4 title game, Fannon calmly calls the final play as Jenkins inbounds to Ryan Arcidiacono, trails his teammate the length of the court then opens himself up to make the game-winning shot. Only then does Fannon let loose with an emotional "Cats win it all! Cats win it all! Cats win it all!"
"I can't even begin to describe what that moment felt like," said Fannon as friends and family gathered for a victory celebration April 9 at the Alexandria home of Frank Fannon, Ryan's older brother. "Ever since I was a kid, this is what I have wanted to do,"
A 1989 graduate of Bishop Ireton High School, Fannon began working at the student radio station while studying at Villanova. When he graduated in 1993, he was asked to throw his name in the hat for an opening on the sports broadcast team.
"I have been doing Villanova football for 23 years now," Fannon said. "Five years later I was asked to join the basketball broadcasts."
Despite the time and travel commitment, this is a part-time job for Fannon, who is the director of Advancement for Bishop Ireton. A wife and three young children add to Fannon's balancing act.
"My wife Laura is incredible," said Fannon as his eyes welled up. "She's amazing. When we got married she said 'Ryan, I know this is what you have always wanted to do. So even though it might get crazy and chaotic, I'll always support you.'"
The couple, who married in 2007, met when Laura Fannon was working at Bishop Ireton as the director of Student Activities.
"Ryan was already doing play by play when we met," she said. "It has always been a part of our relationship. It's something he loves so much so I was prepared to find a way to make this work."
When Villanova advanced to the Final Four, Laura Fannon was in Florida for Easter break with her 88-year-old father and three children: Ryan Jr., 8, Maggie, 6, and Grace, 18 months.
"You can only be so spontaneous when you have three small children," Laura Fannon laughed. "But my dad is from Upstate New York and had never been to a Final Four. So when Syracuse beat Virginia, I called Ryan, packed up the kids and together we drove 22 hours over two days to get to Houston."
Laura Fannon admits she was "a nervous wreck" the last five minutes of the championship game.
"I thought the momentum had switched to North Carolina," she said. "But when Jenkins hit that 3-pointer, I was jumping up and down and crying at the same time. My kids had never seen me react that way. There was so much emotion in that one shot — 18 years of preparation for Ryan and then this perfect ending to his story."
The storybook week continued when Villanova coach Jay Wright asked Fannon to emcee the team's victory parade April 8 in Philadelphia.
"It was such an honor to see Ryan up there introducing the mayor of Philadelphia," Laura Fannon said. "So many of Ryan's dreams came true this week — calling a national title game then seeing his team win it all. I am so proud to be his wife and happy that we were able to share this experience as a family."
Calling the week "surreal," Fannon agreed.
"Outside of my wedding day and my kids being born, my family being with me on this run has made it the greatest week of my life," he said.
Fannon is a fan of Wright, who was able to keep the players focused on the "name in front of the jersey, not the back of the jersey."
"All year Coach Wright got these kids to focus on the team and not themselves," Fannon said. "So even though I sounded excited at the end of the game, I actually felt calm because I knew Archie [Arcidiacono] would make the right play. What an ending to an incredible journey."