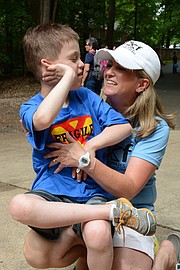 Since their first fundraising walk, the Northern Virginia Fragile X Family group has raised more than $130,000 for research into Fragile X, an inherited genetic mutation that can cause mental impairment ranging from moderate to severe learning disabilities and linked to Autism Spectrum Disorder.
In 2015, there were more than 210 participants in the May 17 walk that helped raise more than $51,000.
"The money raised has been used for many great things," said one of the walk organizers Buffy Grande of Fairfax Station in an email, "but we are excited that our group fully funded the founding of the first national Molecular Biomarker Project. The project is a partnership between the National Fragile X Foundation and several Fragile X clinics across the country."
According to the Fragile X Families of Northern Virginia, around one in every 3,600 males and one in every 4,000 to 6,000 females are affected by the mutation.
The fourth Fragile X Family Fun Walk is scheduled for Sunday April 24 at Burke Lake Park, located at 7315 Ox Road in Fairfax Station. Registration opens at 8 a.m. and the walk (less than one mile) begins at 8:30. Train rides, music, balloons and face-painting will be part of a post-walk celebration.
For more information, visit www.crowdrise.com/fxsnova2016 and www.fragilexnorthernvirginia.com.